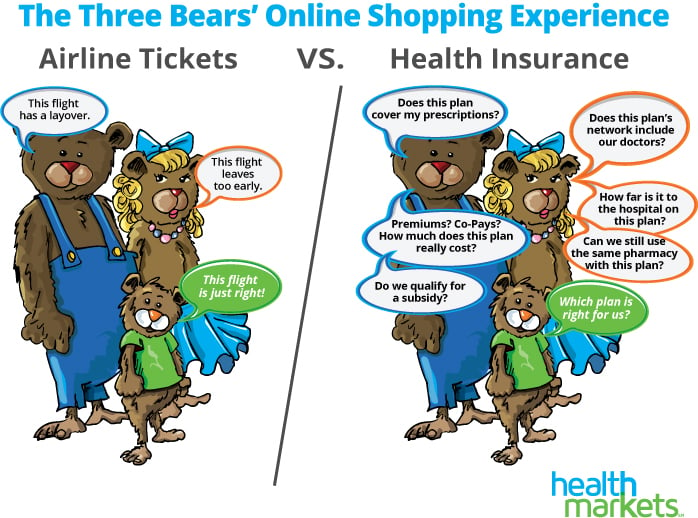 Despite what politicians may say, shopping for affordable health insurance is not as easy as shopping for an airline ticket.  Just take the Bear family. As they planned their annual winter hibernation, they visited a travel website to view their flight options. There were lots of flights available but it was easy to pick the one that worked best for their family by using a few simple criteria. Some flights were too hard – they required a layover in an overcrowded airport (such as LAX), while others were direct and painless (thank you, Minneapolis). And, since Mama Bear is not a morning person, some flights were too early and they were able to further narrow down their options by the flight's departure time.  At this point, all of the remaining flight options were basically the same, taking them from point A to point B, barring any unforeseen travel mishaps.
Unfortunately, the simplicity of buying airline tickets does not translate to comparing health plans.
Now that open enrollment for Obamacare is coming to an end, the Bear Family is online again to purchase health insurance before the deadline on March 31.  This is a much more complex process than it was to buy the tickets.  Mama Bear wants to make sure they find a plan that lets them continue to visit their same doctors and use the same local pharmacy. They also need to make sure that Papa Bear's prescription medications are covered. And finally, the plan they choose must fit within their budget. With tens of thousands of health plans, each with different doctors, hospitals, co-pays, co-insurance, and drug formularies — not to mention different premiums, the Bear Family is feeling a little overwhelmed.  On top of all that, they don't know if they qualify for a financial subsidy or how they apply for it if they do.  It's all just too complicated!
Luckily, Goldilocks stopped by and told the Bear Family about our online health insurance quote tool. Although comparing affordable health insurance options is not as straightforward as buying other things online (Mama Bear has her eye on a new necklace on Amazon.com), it's easier if you know where to look.  Through our online health insurance quote tool, we make researching and exploring health insurance options easier.
And when you, or the Bear Family, is ready to buy individual health insurance or ask questions about your options, a licensed health insurance agent can help at no cost to you, and will build upon your initial online research.
When you're ready to buy individual health insurance, contact us at (800) 304-3414 health insurance agents.  We'll help you make sure you get the health plan that's just right!