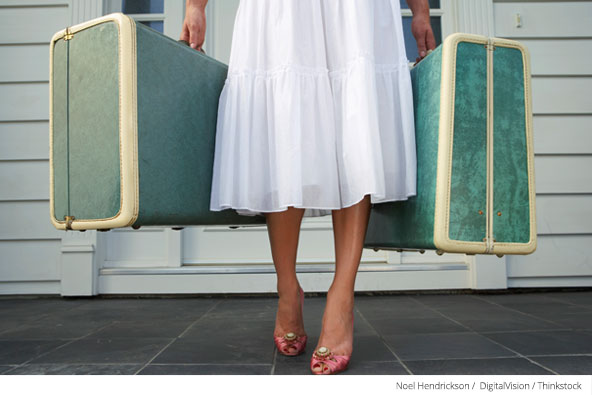 Are you planning a family trip or a big move? Between checklists, tickets, packing, and boxes, having an accident may seem like the worst case scenario. But it may become an unexpected reality, and we want you to be prepared, just in case. That's why this week HealthMarkets is reviewing health insurance for those who are planning to move or travel.
You Are Covered In the U.S. For Any Emergency
Let's start this HealthMarkets' review with the most urgent topic—emergencies. If you are experiencing an emergency within the United States, your health insurance plan must provide you with coverage in order to be Affordable Care Act (ACA) compliant. So, take a deep breath. You don't have to pay for a huge out-of-network medical bill if something unexpected sends you to the emergency room.
 Why? Because the ACA includes emergency care and services in their 10 essential benefits. This means that your health insurance provider cannot penalize you for going out-of-network, or for not having prior authorization, for emergency care as long as you are within the U.S.
Most Plans Will Not Cover Out-Of-State Care
Non-emergency care while traveling within the US will depend on the plan. So, it may be a good idea to see your regular physician before traveling.
 Why? Most health plans have a limited network. A network is a group of healthcare providers that have contracted with your insurance company to offer discounted services, usually within a specific area. Because networks are usually limited geographically, visiting an out-of-state provider may not be within your network. Because out-of-state providers are usually out of the network, your insurance company may not cover these medical costs unless you have a prior referral from your regular care physician.
HealthMarkets reviewed plans that offer out-of-network benefits, too. Even plans that offer exceptions to using out-of-network providers, like PPOs, usually only allow you to visit out-of-network doctors within your state without an approved referral.
Moving Will Trigger an "SEP"
If you are moving within the state or to another state within the U.S., you will most likely trigger a Special Enrollment Period. A Special Enrollment Period is a 60-day timeframe. Within this time, you may choose a new health plan without being penalized for not having health insurance. It's a good idea to start looking for new coverage as soon as you've moved. These 2 months will whiz by before you notice!
 Why? The ACA allows individuals 2 months to get insurance after moving in order to find affordable care in their area. Again, it all comes back to networks. Your plans network simply may not cover your new location, meaning you would constantly be using out-of-network providers.
But, don't worry. Our HealthMarkets review dug up a little extra dirt. There are multi-state plans that may offer plans similar to the one you had before moving. So, if your insurance provider is available, you could transition to another plan from that same company. Your doctors may be different, but at least you can rely on coverage you are accustomed to.
International Care Is Not Normally Covered
Most ACA health plans do not cover foreign emergency care. This means that if you have an accident internationally, you may be responsible for the entire bill. Depending on the country you are visiting, this may or may not be a bad thing.
 Why? The law only requires that a plan cover you in the U.S. Nothing in the law prevents an insurer from offering a plan that provides international coverage, but most plans will not. However, that does not mean that all plans do not cover international health care. The State Department provides a list of private insurance companies that provide international coverage.
Just Remember
HealthMarkets reviews the complicated parts of health insurance for you. We want you to be educated and prepared when you are traveling and moving. So remember, emergencies are always covered within the United States. Don't be afraid of a hospital bill if you are in a true emergency situation. You will be covered. Everything else may take a few calls to your agent, your insurance company, or HealthMarkets. Give us a call anytime at (800) 304-3414 or visit our blog to find other HealthMarkets reviews if you have any questions.