Shopping for insurance can be tough. But you don't have to be a doctor or a lawyer to find the best plan for your needs and budget. In fact, you can order insurance in the same ways you might order a pizza.
In this blog, HealthMarkets reviews the top 3 ways you can buy insurance to satisfy your coverage cravings – in person, over the phone, or online!
#1. In person with a licensed agent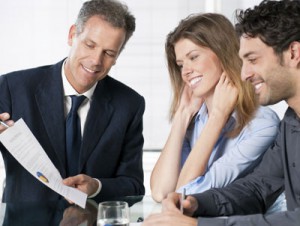 Utilizing your local HealthMarkets insurance agent is a smart move. Your licensed agent can help you find coverage and enroll you in a new health, life, or other insurance plan in person (or over the phone). By simply calling (800) 827-9990, you may schedule an appointment with a licensed agent to meet with you in person at a location of your preference. Working with a licensed agent, you can discuss coverage options, and questions, and then enroll.
HealthMarkets reviews thousands of insurance plans from more than 200 insurance companies nationwide to find you the right plan for your needs and budget. Your local agent, like a pizza guru, has the knowledge and experience to help you narrow down the selections on the coverage menu and choose a plan that is right for your palette.
You can search for and find your local agent here.
#2. Over the phone
Purchasing insurance with HealthMarkets over the phone is super convenient. Not only can you enjoy the comfort of your sofa, but you can get answers to your questions and get enrolled in a plan that helps keep you and your family protected. During the call, HealthMarkets reviews your options, compares plan benefits and prices, and can get you enrolled quickly and easily.
Enrolling in insurance over the phone is a bit like ordering a pizza, but instead of adding pepperoni, pineapple, pickles, anchovies, and bacon (I admit I have weird tastes) you can choose your deductible, choose a plan level ("metal level"), add supplemental insurance, dental, vision, and all the extras … mmm stuffed crust …
#3. Online
When you visit HealthMarkets.com you can have the heavy lifting of researching insurance plans done for you. Simply input your information here. HealthMarkets reviews, and showcases, the plans available to you based on your custom gourmet – whether that's by price, company, plan level, or zip code.
Using the HealthMarkets.com website, you can obtain free quotes, compare plans, shop online, and purchase directly if you are in a federal based exchange state.
If your state operates their own marketplace (a state-based exchange) you can quote, shop and select your plan online. Then, HealthMarkets will call you to ask you a few questions and finish the process. It's super easy and quick too!
If you're like me, that means more free time for Netflix binging with friends and family!

When you're ready to get covered and protect yourself or your family with affordable insurance, HealthMarkets is ready to take your order and sauce it up with any and all the toppings you need to satisfy your coverage cravings. Medicare, Health, Dental + Vision, Supplemental, and Life Insurance coverage options are available to cook up your insurance order to your individual needs and tastes.
And, because HealthMarkets reviews and presents the finest and freshest coverage ingredients, you always know you're getting the best price – and that's a guarantee.