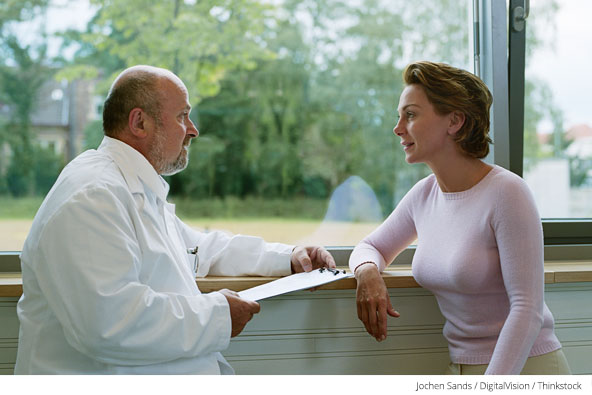 Oftentimes, we have a lot of things we want to cover at a doctor's visit. Yet, the visit can be shorter than we'd like, and issues can arise during the visit that are unexpected. How can you make sure you accomplish what you want, ensure all of your questions are answered, and make sure your needs are met?
A good visit starts with the right doctor. Choosing a doctor can take some time, but there are a number of resources to help you make the best selection.
Choose a physician who is affiliated with your health plan. Most plans have lists of doctors you can choose from. Depending on your type of health insurance, you may be free to choose whatever doctor you wish while other plans limit the choice of doctors. (Other plans will still allow you to select any doctor you wish, but if that doctor is not a member of the plan, you may have to pay a bigger share of the cost of care. Generally, the plans that allow you to select any doctor carry higher premiums.) To find your plan's list of providers, go to the insurer's website or review the materials that your health plan sent you. If you don't have any such information, call the phone number on your insurance card and ask a customer service representative how to locate the list of providers.
Examine the list of eligible doctors for factors that are important to you, such as: gender, training and board certification, office location and hours, languages spoken, hospitals the doctor is affiliated with, and whether the doctor is part of a group of physicians or specialists.
Consider calling the office to ask about such matters as parking, how long it typically takes to make an appointment, and whether same-day visits or after-hours visits are offered. Does the doctor use email? Is there a lab on-site? Your health plan may provide links to the doctor's website (if he or she has one), or you can do an Internet search to find the doctor's website.
Check the doctor's credentials. Once you have a few names, look at each doctor's training and whether the doctor is board-certified – a designation that means the doctor has had extra training and has passed special exams after medical school to become specialists in a particular area of medicine. In some states, you can also examine a doctor's licensing background and any disciplinary information. The Administrators in Medicine, a nonprofit group of state medical board directors, operates a free website that allows consumers to search records.
At your first visit, assess the office and personnel. Do you like the doctor and feel comfortable? Did you have to wait long to see the doctor? Were the receptionists and nurses respectful and attentive? Ask your doctor some questions about how he or she operates the practice, such as whether family members can also attend patient visits and how quickly the doctor responds to phone calls, including requests for prescription refills.
Some of the responsibility for a successful and fruitful office visit lies with you. It's important to plan what you want to accomplish in an office visit, recommends Dawn Davis, MD, a family physician and assistant professor of Family and Community Medicine at Saint Louis University.
Davis suggests putting your medications in a bag and taking them to the visit. Include over-the-counter medications and nutritional supplements. Bringing the bottles in gives a physician easy access to dosing information and who the prescribing doctor is – details patients may often forget to add to a written list of medications. Compiling the bag can also help ensure that the physician sees if medications are being taken as prescribed.
"Healthcare providers often assume that if you have been prescribed a medication you are taking it," Davis says. "If you aren't taking it, we need to know why."
Make a list of questions you have, including concerns about medication side effects and costs. In addition, before the doctor's visit, call your insurance provider to find out your plan's preferred pharmacies and labs. Knowing this information in advance can help save on out-of-pocket expenses, especially on lab procedures, Davis recommends. If you are coming in for a specific ache or pain versus a routine check-up, think a bit about your symptoms.
"Think about whether anything makes you feel better or worse," she says. "Does a routine activity worsen your symptoms? Do you feel better early or later in the day? Tracking your symptoms may help your doctor determine the best course of action."
A patient should be able to tell their physician how long they've been experiencing each symptom, if it is intermittent or constant, and what their level of discomfort is. Honesty around symptoms and your health habits will also aid in the diagnostic process.
"We need honesty. Doctors aren't here to judge if you tell us you don't exercise or you are a smoker," she says. "We need the truth in order to make the best recommendations."
Other tips for making your doctor's visit run smoothly include:
Have your paperwork ready. If you are a new patient, get there early. If you are a returning patient, make sure your paperwork is up to date so no time is wasted during an office visit.
Create a list of every doctor and specialist you have seen in the past 12 months, along with the reason for the visit.
Know your health history.
Don't wait until the doctor has their hand on the door to bring up additional concerns. If you have a question or concern, talk about it as part of the visit. Typical appointments run 20-30 minutes.
Make sure you understand what your action plan is once you leave the doctor's office.
"If it helps to repeat it back, do it," Davis says. "We want to make sure you understand the diagnosis and that the treatment plan makes sense to you."
Consider taking a relative or other support person to the visit with you to help you answer questions and to provide an extra set of ears.