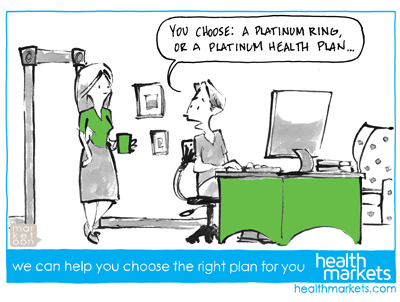 Platinum, gold, silver, and bronze.  We're talking about jewelry or precious metals, right?  No, not really.  Ever since the Affordable Care Act (ACA), also known as Obamacare, was passed, these words have taken on a whole new meaning and now describe different levels of health insurance coverage.
One of the goals of the ACA is to standardize the benefits provided and group coverage into 4 tiers based on the type of coverage they provide.  Prior to the new law, consumers didn't have a clear way to compare the relative value of various health plans – it was like that old saying … comparing apples to oranges – every plan offered different benefits or coverage levels.  Now that there are standardized requirements, each plan offers a minimum standard of benefits and it's easier for consumers to compare the value across different plans in the same tier.
But, how does someone pick between the different health insurance "metal levels"?  Well, you could read a lot of technical information online about the platinum, gold, silver, and bronze plans or you could make things easy on yourself by getting in touch with one of our licensed health insurance agents.  Our agents are knowledgeable when it comes to the nuances of health insurance and can help you find a plan to protect you and your family.
Choosing a health plan can be a tough decision that often can't be made in isolation.  It's a balance of each person's personal and financial situation.  There are trade-offs and choices to finding the optimal plan.  Our licensed health insurance agents can help you evaluate whether a platinum plan or a bronze plan is right for your personal situation.  It may be that a silver or bronze health insurance plan is just what you need – which frees up wallet space for other equally important things you need … perhaps a platinum ring for an upcoming proposal?!