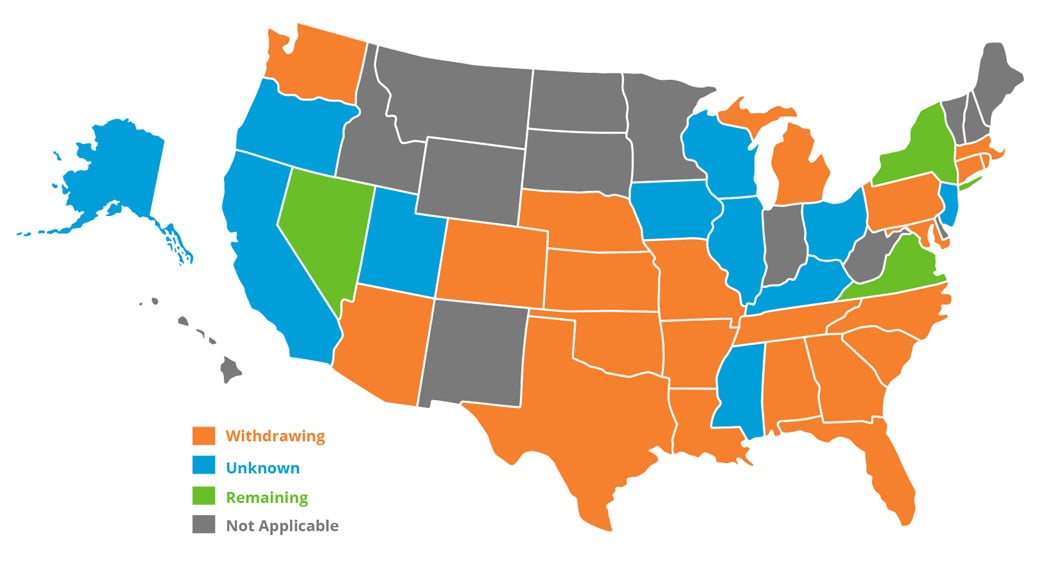 UnitedHealth Group Inc., the parent company of UnitedHealthCare, announced that it will drop out of the Affordable Care Act, or Obamacare, exchanges in at least 16 states for 2017.
Late last year, UnitedHealth Group, one of the nation's largest health insurers, indicated that it was considering exiting most marketplace exchanges due to escalating losses on Obamacare plans. It had reported losses of $475 million last year and projected losses of $650 million in 2016. On Tuesday, CEO Stephen Hemsley confirmed this decision stating that "next year we will remain in only a handful of states."
United currently operates in 34 states within the individual health insurance market. While they have not provided a complete list of the markets they plan to exit, based on information from state regulators, the table below lists the states that may be affected in 2017:
Alabama
Georgia
Missouri
South Carolina
Arizona
Kansas
Nebraska
Tennessee
Arkansas
Louisiana
North Carolina
Texas
Colorado
Maryland
Oklahoma
Washington
Connecticut
Massachusetts
Pennsylvania
Florida
Michigan
Rhode Island
It is believed that United plans will continue to be available in New York, Nevada and Virginia in 2017.
In addition to the information received from the states listed above, Wisconsin has stated that they haven't received an exit notice from United and Covered California does not release plan participation until closer to Open Enrollment.
While United is the nation's largest health insurer overall, they were not one of the primary participants on the public exchanges. They only participated in four states when Obamacare launched in 2014 but quickly expanded to 23 states in 2015 with a total of 34 states in 2016. However even after this expansion, according to HealthMarkets' internal sales information, UnitedHealthcare plans accounted for only 15 percent of health insurance sales during the 2016 Open Enrollment Period. This means that most people will be minimally impacted by their withdrawal from these state exchanges.
What Does This Mean for You?
If you currently have a health insurance plan with UnitedHealthcare, there's no need to worry right now – your plan will continue to cover you through the end of the year. However during Open Enrollment, you may need to select a new plan.
Unfortunately, this could be difficult for some. According to an analysis from the Kaiser Family Foundation, United's decision may dramatically limit competition in about 10 states. As it stands today, Kansas, Oklahoma and most of Alabama may be left with only one insurance company for 2017. And, if United were to exit all the state exchanges, a total of 1.1 million people would have just one option for an insurer, provided no other companies enter these markets to fill the gap.
In addition to the reduced options available to consumers, states and counties left with only one or two insurance companies after United's exit could see higher premiums, unless another company enters those areas; however the Kaiser report noted that premium increases would be minimal. Since United offers the lowest or second-lowest silver plan in only about one third of the counties where it participated last year, the report predicted that "the effect of a United withdrawal nationally would be modest. The national weighted average benchmark silver plan would have been roughly 1% higher in 2016 had United not participated (less than $4 per month for an unsubsidized 40-year-old)."
What You Should Do Now?
While there's nothing you need to do yet, now is actually a great time to start talking to a licensed insurance agent who can help you explore your options – whether you have a UnitedHealthcare policy or one from another insurance company.
Insurance companies often join or leave the marketplace. That's why it's important for you to review your options every year with an agent who understands the changes and can help you find the best plan to meet your needs and budget. An agent can help you to find a plan that has your doctor, check for subsidies to lower your premium, and familiarize you with plan types and categories.
At HealthMarkets we understand how to compare health insurance plans and work with over 200 different insurance companies nationwide. Follow us on social media to get the latest updates on UnitedHealthcare and Obamacare changes or call a local health insurance agent today at (800) 827-9990.