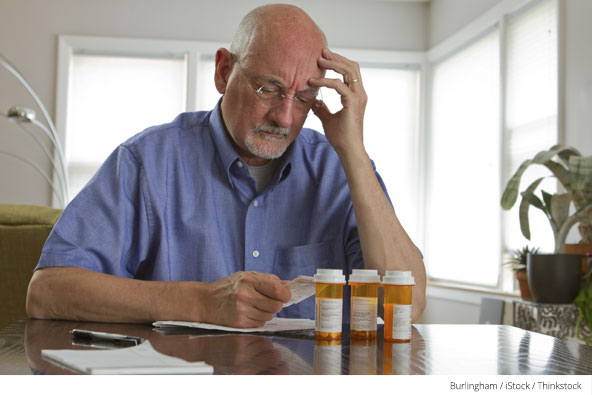 Enrolling in Medicare is one of the many advantages of turning 65. Why? Because you're finally able to access benefits you've been paying into all of your working years! But if you've reviewed the coverage in Parts A and B (Original Medicare), you've probably noticed a gap. None of your prescription costs are included. By reviewing the costs of Medicare Part D and Medicare Advantage, you can potentially save money while getting additional coverage.
Cost of Medicare Part D Compared to the Benefits
After rolling out Medicare Part D, Medicare has become the second largest payer for prescription medications. It is surpassed only by private insurance. Given its popularity, you may be curious about the cost of a Medicare Prescription Drug Plan or Medicare Part D.
You can purchase a standalone Part D plan. This is common if you have Original Medicare or a Medicare supplement insurance plan (also known as Medigap). On average, a Part D premium in 2015 was $36.68 per month. However, that doesn't mean your premiums couldn't be even lower. The cost of a Part D plan will vary based on:
The plan you choose
Participation in "Extra Help"
Participation in a Medicare Savings program.
For those that qualify, "Extra Help" can help pay Part D premiums and copays. To learn more about "Extra Help", and other aspects of Medicare, check out HealthMarkets' Guide to Medicare.
Cost of Medicare Advantage Drug Plan Costs and Benefits
Medicare Advantage often boasts a $0 or low monthly premium. It has small copays or coinsurance, as well as a max out of pocket. Most plans include prescription drug coverage, plus some plans include vision, dental, and hearing benefits. If you want the benefits of Medicare Parts A, B, and D, consider choosing a Medicare Advantage plan.
Remember, choosing Medicare Advantage doesn't mean you're losing Medicare Parts A or B. It's simply a more inclusive plan sold through private insurance companies.
Recent Changes to Prescription Spending
3 Ways to Save on Prescription Medications
Enroll in a Medicare Part D or Medicare Advantage (Part C) plan
Check your drug formulary
Compare prices at different pharmacies
While generic medication prices have lowered over the years, branded drugs have almost doubled. An IMS report indicated that the rise in prescription spending was in part due to an increase in brand-name drug prices and the creation of new branded medications. Because new and brand-name medications hold their patent for years, more affordable generics cannot be created. Without any competition in the market, drug companies can set (and increase) the price of their medications. So, consumers are impacted by whatever price the drug company chooses.
The Impact on Seniors
After working hard for decades, most Americans want enough saved to retire comfortably. However, retiring means most will have to live off a set income. So even if prescription costs change, a retired senior's income won't. If a drug becomes too expensive, the chances that a senior will continue taking it as prescribed are lower. This is why it's so important to compare your spending to the cost of a Medicare Part D or Medicare Advantage plan. A low monthly premium can help to reduce prescription expenses.
3 Ways to Save on Prescription Medications
The first way to save, of course, would be to enroll in Medicare Part D or Medicare Advantage (Part C). The monthly cost of Medicare Part D can easily lower the full out-of-pocket cost of prescription medications. The same is true for Part C, since Medicare Advantage can also lower drug costs.
Next, make sure your drug formularies are covered under the plan you choose. If you are receiving a new medication, ask your doctor if your insurance company will cover that prescription. If not, you can ask your doctor to choose a covered medication or send in a prior authorization request.
Finally, to make sure you are getting the least expensive prescriptions possible, you should compare pharmacies. According the Consumer Reports, "prescription drug prices can vary widely from retailer to retailer, even within the same ZIP code." Try comparing pharmacy pricing with websites like USARx. Just remember, the prices listed will be the full out-of-pocket costs before any insurance coverage. To compare prices after insurance coverage, you will have to contact your local pharmacies.
Compare the Cost of Medicare Part D and Medicare Advantage with HealthMarkets
Start saving on your prescription medications today with HealthMarkets. We can help you find a prescription coverage plan that includes your formularies and is within your budget. Visit with a licensed agent near you, or call us today at (800) 488-7621.
HMIA002467