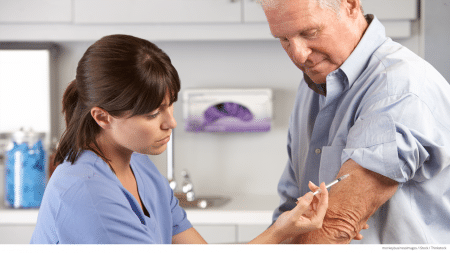 As a Medicare beneficiary, you may wonder whether your coverage includes flu shots. As long as the doctor or qualified healthcare provider accepts Medicare, the answer is yes. Your Medicare flu shot will be covered once each flu season at no cost to you. To learn how to ensure your shot will be covered, and why you should take advantage of your free yearly flu shot, continue reading.
How Do I Know Whether My Doctor Accepts Medicare?
Before you get a Medicare flu shot, check that your medical provider accepts your coverage. If your doctor accepts Medicare assignment, they are "participating." That means he or she agrees to accept the Medicare-approved payment amount for covered services. The only way to know for sure whether your doctor accepts Medicare assignment is to ask.
If your doctor accepts assignment:
They won't charge you more than the Medicare-approved amount for any covered service. This agreement means your out-of-pocket expenses may be cheaper than if you go to a doctor who doesn't accept assignment.
The only fees you need to consider are your Medicare deductible and any applicable copayment. (But your flu shot will be covered without these fees applying.)
Your doctor agrees to forward your claim to Medicare and not charge you for doing so.
If your doctor doesn't accept assignment:
They haven't entered into an agreement to accept the Medicare-approved amount for all covered services. However, they can still choose to for any particular service. Keep in mind that nonparticipating doctors may ask you to pay the whole bill out of pocket.
The doctor can charge you more than the Medicare-approved amount. There is a "limiting charge" that restricts this increase to 15 percent more than the approved amount on certain Medicare services.
Your doctor should still submit your claim to Medicare without charging you for doing so.*
Medicare Flu Shots Are Covered, But Why Should I Get One?
Your yearly Medicare flu shot will be covered 100 percent by your Medicare insurance plan as a preventive service to avoid sickness. So, getting the shot will cost you nothing. According to the Center for Disease Control, it is estimated that an average 5 percent to 20 percent of people in the U.S. get the flu each year. This illness causes an annual hospitalization rate of about 310,000 people from seasonal flu-related complications. It's also estimated that 90 percent of the people who die from the flu each season are 65 or older. Aside from avoiding these costly risks, there are plenty of benefits to getting your annual flu shot.
Getting Your Medicare Flu Shot:
Raises your chances of avoiding seasonal influenza
Has been linked to a lower rate of stroke and heart attack
Offers defense against H1N1, or Swine Flu
Protects the people around you from contracting the flu
May make your illness less serious if you end up sick
Can reduce the risk of more serious consequences of sickness, such as hospitalization and death
Helps protect pregnant women for as long as four months following birth and their babies during pregnancy and in the months following birth
Provides you with the option of a subcutaneous shot
Now that you know your Medicare Flu Shot is covered, you might have other questions about your plan. We're here to answer those questions. HealthMarkets is dedicated to the health and satisfaction of our customers. Our mission is to make insurance shopping easy so that you can focus on the important things in life. HealthMarkets has thousands of licensed insurance agents helping people enroll in coverage in communities nationwide, so all of our customers can feel safe and confident in their health insurance choices. Contact HealthMarkets today by calling (800) 488-7621 or finding an agent near you.