December 6, 2018
•
7 minute read
Part B: The Second Piece of the Medicare Puzzle
Medicare Part B is one of four parts that make up Medicare. Each part provides coverage for different services and comes with its own terms for payment and use. 
Let's take a detailed look at Medicare Part B, including what it covers, what it costs, who is eligible, and how to enroll. HealthMarkets can help you find additional coverage and savings.
What Is Medicare Part B?
Medicare Part B is medical insurance that provides coverage for services such as outpatient care, preventive services, ambulance services and more.
Here are some of the covered services.
Outpatient care
While Medicare Part A covers inpatient care (such as hospital or skilled nursing home stays), Medicare Part B provides benefits for outpatient services that are deemed medically necessary. Such covered services include:
Emergency or observation room services

Same-day surgery or stitches 

Laboratory tests

Mental health care in a partial hospitalization program

Radiology services including x-rays
Preventive services
Upon enrolling in Medicare Part B, you'll be eligible for a "Welcome to Medicare" preventive visit that includes a review of your medical history and education about preventive care. After your first year under Medicare Part B, you'll be eligible for an annual wellness visit during which you'll undergo a health risk assessment. 
In addition to the "Welcome to Medicare" visit and the yearly wellness visit, some of the preventive services covered by Medicare Part B include:
Abdominal aortic aneurysm screening

Alcohol misuse screening and counseling

Bone mass (bone density) measurement

Breast cancer screening/mammograms

Cardiovascular disease screenings 

Cervical and vaginal cancer screening

Colorectal cancer screenings

Depression screening

Diabetes screening and self-management training

Flu shots

Glaucoma tests

Hepatitis B shots

Hepatitis C test

HIV screening

Lung cancer screening

Medical nutrition therapy services

Obesity screening and counseling

Pneumococcal shot

Prostate cancer screenings

Sexually transmitted infection screening and counseling

Smoking and tobacco-use counseling
Ambulance services
With Part B, you'll be covered for ground transportation by ambulance to any hospital or skilled nursing facility for medically necessary services or when transportation in any other vehicle could endanger your health. Individuals are only covered for transportation to the nearest medical facility that can provide the type of treatment required. 
Ambulance transportation by helicopter or airplane may also be covered by Part B if immediate and rapid transportation is needed but cannot be provided by ground transportation. 
Additionally, Medicare Part B covers the facility service fee for approved surgical procedures conducted in an ambulatory surgical center.
Durable medical equipment (DME) coverage 
Part B also covers the following durable medical equipment when it is deemed medically necessary by your doctor. These items can include (but aren't limited to):
Crutches and canes
Hospital beds
Walkers
Blood sugar monitors
Blood sugar (glucose) test strips
Commode chairs
Oxygen equipment and accessories
Sleep apnea and CPAP devices
Nebulizers and nebulizer medications
Wheelchairs
Patient lifts
Continuous passive motion (CPM) machine
Infusion pumps and supplies
Support surfaces
Suction pumps
Traction equipment
Home health services
While Medicare Part A provides home health services coverage following a hospital stay, Part B can provide coverage if no hospital stay was needed. 
In order to be eligible for home health services coverage under Part B, you must have trouble leaving your home without help (such as using a wheelchair, special transportation or help from another person) due to an illness or injury and leaving your home is not recommended due to your condition.
Therapeutic and rehabilitative care
Medicare Part B provides coverage for a number of therapeutic and rehabilitative services. Some of these include:
Cardiac rehabilitation

Chiropractic services (limited basis) 

Occupational therapy

Physical therapy

Pulmonary rehabilitation 

Speech therapy 

Continuous Positive Airway Pressure (CPAP) therapy
Chemotherapy
Outpatient chemotherapy that takes place in a doctor's office, freestanding clinic or hospital can be covered under Part B. Part A covers the hospital stay if you are admitted as an inpatient. 
Limited prescription drugs
Medicare Part B does not offer coverage of prescription drugs that are used at home. Medicare Part D focuses on covering the cost of prescription drugs (more on that later). However, Part B does offer coverage for flu shots, immunosuppressant drugs and drugs that are used in accordance with certain types of medical equipment. 
Under certain circumstances, Part B will provide coverage for heart, lung, kidney, pancreas, intestine and liver transplants when performed in Medicare-certified facilities.
Part B Eligibility
Generally, if you're 65 or older, receiving disability benefits, or you have End-Stage Renal Disease (ESRD), you may qualify for Medicare Part B.
How Do I Enroll in Medicare Part B?
There are three causes for automatic enrollment:
If you're receiving Social Security or Railroad Retirement Board benefits, you'll automatically be enrolled in Medicare Part A and Part B once you turn 65 years old. 

If you're under 65 but are getting disability benefits from either Social Security or the Railroad Retirement Board, you'll receive Part A and Part B after 24 months of such benefits. 

If you have ALS (Lou Gehrig's disease), you'll receive Part A and Part B the month after your Social Security disability benefits begin.
If you're not eligible for automatic enrollment in Medicare, you'll have to sign up yourself during one of three enrollment periods. 
The "initial enrollment period" is a seven-month period that begins three months before you turn 65, includes the month you turn 65 and ends three months after turning 65.
If you sign up during the first three months of the initial enrollment period (prior to turning 65), your Medicare coverage will begin on the first day of the month in which you turn 65. If enrollment occurs during the last three months of the seven-month window, your coverage will be delayed.
The "general enrollment period" usually lasts from January 1 to March 31 every year. If you sign up during this time, your benefits won't begin until July 1 and you may have to pay a late enrollment fee.
The "special enrollment period" applies to those who did not sign up for Medicare during either the initial or general enrollment periods because they were still working and/or were still covered by a group health insurance plan.
The special enrollment period is an eight-month period beginning the month after employment or group coverage ends, whichever happens first. There is no late enrollment fee for signing up during the special enrollment period.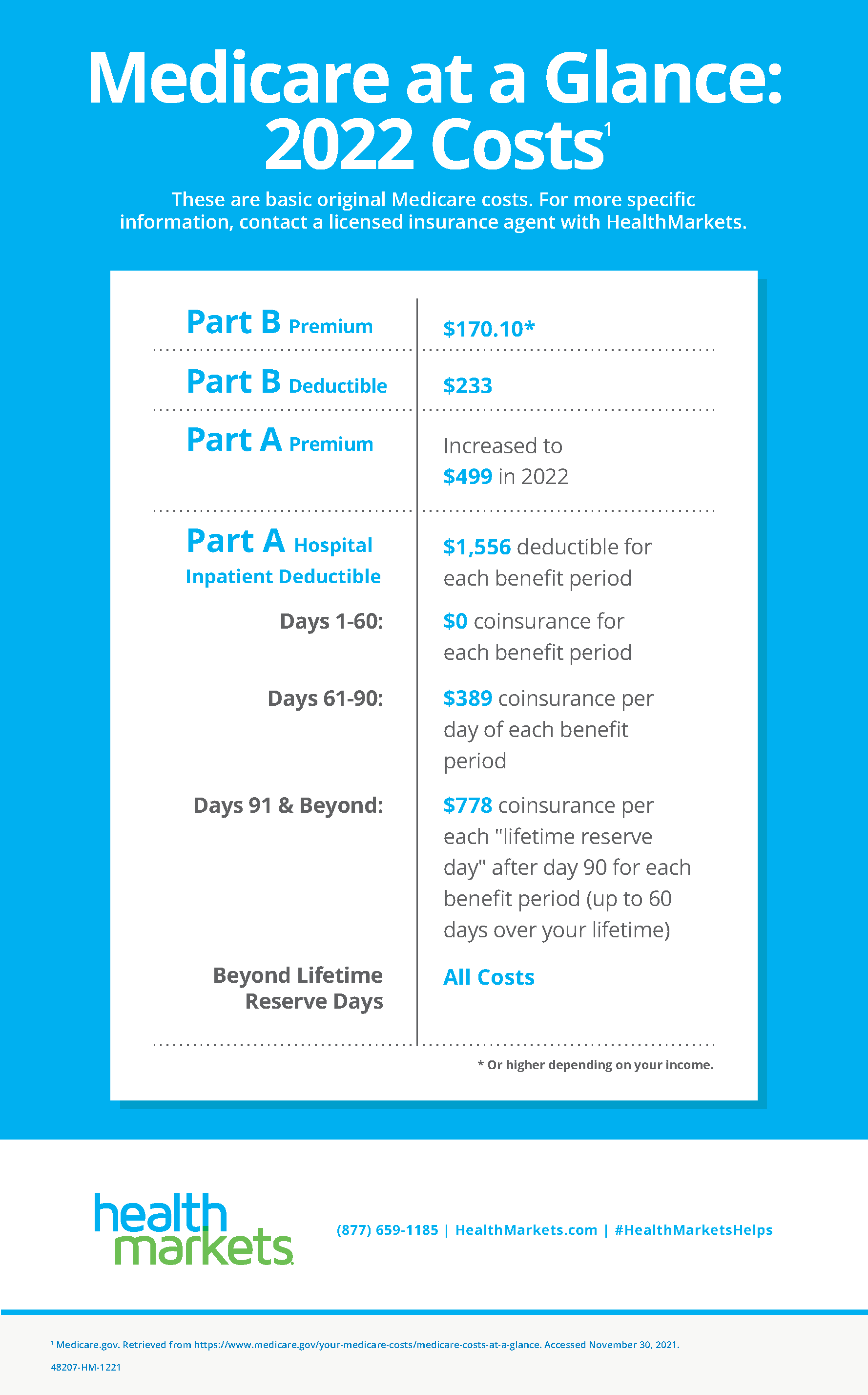 What Are the Medicare Part B Costs?
Below is a breakdown of the costs associated with Medicare Part B:
Monthly premiums. 
While Medicare Part A has a zero-dollar premium for most people who paid Medicare taxes while working, Part B comes with a monthly premium. The standard premium can fluctuate year-to-year. In 2022, it's $170.10 or higher depending on your income.1
Some people will have to pay more than the standard premium. If your modified adjusted gross income on your tax return from two years ago was more than $91,000 for an individual or $182,000 for those filing jointly, you will pay more than the standard premium.
Deductible. Medicare Part B comes with a yearly deductible of $233 in 2022.1 After meeting this deductible, you'll typically pay a 20% coinsurance of the Medicare-approved amount for services rendered.
Late enrollment fees. Depending on the circumstances, you may have to pay an increased premium every month for as long as you remain enrolled in Part B. 
The Other Parts of Medicare
Of course, Part B is just one component of Medicare. In order to better understand Part B, it helps to also understand the other three parts, which are named Part A, Part C and Part D. 
When you combine Medicare Part A with Medicare Part B, you have what's called "Original Medicare." This two-part combination is a fee-for-service health plan facilitated by the federal government. Original Medicare is a way to receive both inpatient (Part A) and outpatient (Part B) coverage under one plan.
Medicare Part A
Medicare Part A, put generally, is hospital insurance. This is the standard, or default, type of Medicare coverage. When you sign up for Medicare, you are automatically enrolled in Part A. Part A comes at no cost for eligible patients who have paid Social Security taxes for at least 10 years. If you have contributed to Social Security for fewer than 10 years, you will be required to pay a monthly premium for Part A. 
Services covered under Part A include:
Inpatient hospital care

. Part A covers up to 90 days of general hospital stays for each benefit period, plus an additional 60 lifetime reserve days. Part A will also cover up to 190 lifetime days in a psychiatric hospital that is Medicare-certified.

Skilled nursing facility (SNF) care

. If you are in the hospital for three consecutive days within the 30 days prior to admission to a skilled nursing facility, you qualify for up to 100 days of care. You must require skilled nursing services seven days a week or require physical, occupational or speech therapy services at least five days per week.



Home health care

. If you spend at least three days in the hospital within 14 days prior to receiving home health care services, you are eligible for up to 100 days of covered care under Part A.

Hospice care

. An unlimited number of hospice care days are covered under Part A provided that your doctor has certified that you are terminally ill and that your life expectancy is six months or less.
Medicare Part C
These plans are called Medicare Advantage Plans and come in the form of an HMO, PPO or POS, just as with traditional health insurance. These plans cover the same benefits as Original Medicare. The flexibility lies in the extra benefits that each may provide, including prescription drugs, dental, or vision benefits, that are not covered by Original Medicare. 
In order to be eligible for Part C, you must first enroll in parts A and B. Part C plans may require a monthly premium in addition to a Part B premium and can come with varying terms, rules and restrictions. 
In 2022, there are over 3,800 different types of such plans made available.2
Medicare Advantage plans can serve as a flexible alternative to traditional Medicare options. And at HealthMarkets, we work with recognized insurance companies nationwide to help people just like you find a Medicare Advantage plan. See which Medicare Advantage plans available in your area are right for you.
Medicare Part D
Coverage for prescription drugs can be acquired through a Medicare Advantage (Part C) plan or through Part D. Medicare Part D is a prescription drug plan (PDP) available only through private insurance companies.  
There are many different Part D plans available, and each have their own list of drugs that are covered under the plan. One of the advantages of Part D is that these plans have permission to cover some drugs that Original Medicare is legally prohibited from covering. 
Many Part D plans will restrict customers to pharmacies located within the plan's network. 
Find a Plan That Fits Your Needs
Finding a Medicare plan that fits your unique needs can be easy. Compare plans online, tell us what's important to you, and find plans based on your answers. If you have any further questions about Medicare Part B including coverage, costs, eligibility, or enrollment, call a licensed insurance agent today at (800) 439-6916.