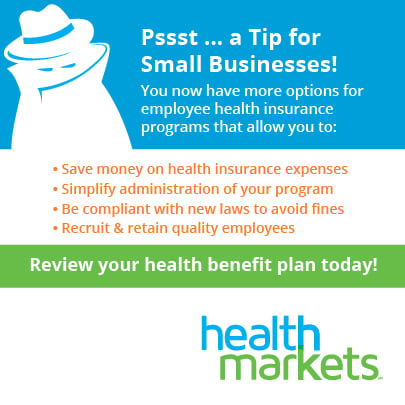 You're a small business owner — a job creator and hardworking leader at the very heart of the American Dream — keeping our economy going and growing. You're battling an uncertain economy, limited time, limited capacity, 24/7 information proliferation, complex legislation and a mountain of regulations. To make matters worse, did you know that a majority of small businesses are expected to see an increase in health insurance costs this year?1
Chances are you've experienced some emotional turbulence thinking about rising health care costs, group health insurance, and the impact of healthcare reform on your business. Perhaps you're wondering how you can not only maximize incentives to retain and attract the talented workforce you need, but also control costs and make payroll.
We'd like to offer up some important information about a little-known solution you can use to help address these issues. It could be the critical game changer your business needs.
One would think this service would be reserved only for large corporations. Fortunately, that isn't the case — even for small business owners and entrepreneurs. Not only could it help save your company thousands of dollars in health insurance expenses, but it could help you:
Attract top talent to your workplace
Maintain compliance with laws to avoid expensive fines
Simplify administration of employee benefits
Increase your ROI, and grow your business
This is what HealthMarkets' insurance professionals have recognized through recent outreach to small business owners. The best part about this service is that it won't cost you a dime.
There is no need to trudge through swamps of administrative red tape or read thousands of pages of healthcare laws to understand the implications of healthcare reform on your business (particularly, if you have small business health insurance). Business owners stressed out by the administrative impacts can breathe a sigh of relief working with their local HealthMarkets licensed insurance agent.
After getting started you'll receive a free and comprehensive analysis to calculate your business' insurance costs and help ensure compliance with healthcare laws. Based on the information provided, you'll get recommendations and a custom-tailored plan designed to work for the needs of your unique business.
Here are some of the questions our licensed agents can answer for you:
Can my business save thousands of dollars in benefit costs?
How can we lower our employer contribution if we offer group health insurance?
How can we decide if an HMO, PPO, or other type of group health plan is best for our employees?
Will you help us figure out which voluntary group health benefits to offer our employees?
How can we simplify administration of our employee benefits program?
How can we provide employees with a health insurance benefit even if we are not providing a group health insurance plan?
How can we offer a competitive incentive plan to retain and attract top talent to our workforce?
Do healthcare laws and mandates apply to our business?
After our thorough analysis, we can help you explore creative solutions to build a custom health insurance program.
Business owners looking to become even more competitive and drive profits through understanding healthcare reform know that employees are the lifeblood of their organization. They recognize that employee happiness is an important key to business success. In order to retain top talent and maintain a competitive edge in this economy, small businesses must offer competitive wages and health benefit choices. This can be difficult if a company is drowning in health insurance costs or struggling to navigate the confusing and complex waters of healthcare reform laws. These days there are many options available, and there has never been a better time to work with an expert.
Take the first step to optimize your business. Call us at (800) 976-5818 to meet with a local health insurance agent and learn more about this little-known solution.
Once you've sorted through all your benefit options, ranging from small business group health insurance to a custom-built program, your agent will be available to meet one-on-one with you and your employees to help select individual benefits and provide ongoing support free of charge.