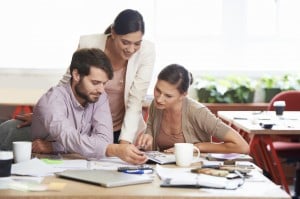 In previous blogs, we talked at length about the economic impact of small businesses. In fact, over the last two decades, 64 percent of new jobs in this country were generated by small businesses. When this much of our country's success relies on entrepreneurs, we want to do everything we can to help unique, local businesses streamline their marketing efforts and thrive in a competitive economic climate.
So, which marketing resources can small businesses lean on for valuable advice when a high-dollar consultant is out of the question?
We have a few ideas.
1. Download Plenty of Podcasts
A podcast, for those who have not listened to one before, is an audio file you download. Podcasts are very similar to radio programs, only you listen to them on-demand. Podcasts are quick, simple ways for small business owners to gather information about a wealth of topics, especially marketing. You can download and listen to a podcast at your desk or while you're doing chores around the house. Here are a few reputable options to get you started.
Podcasts are a great way to get a lot of ideas quickly. With all this information, you can test different marketing and management ideas and see what is right for you. If you find something that works especially well or learn a valuable lesson, produce and publish your own podcast. It's a great way to get your name out there and to help other small business owners succeed.
2. Get Started with Social
Social media is ubiquitous. Heck, a seventh of the globe has a Facebook account. But plunging into the world of social can be intimidating for a small business. While you want to use social tools to connect with customers and manage your reputation, you don't want to waste valuable resources sending posts and tweets out into the ether with no specific return on your effort. So what do you need to know to get started?
Choose the right social channel: In one survey, 41% of business owners thought LinkedIn was the most valuable social channel for their goals. Make sure you look into every option and choose what is right for you. You'll base that decision partly on audience. Are you trying to reach moms in their mid-40s? Maybe Facebook is the tool for you. Millennials? Try Instagram. Each social channel has a unique character, and to take advantage of it, you need to know your audience.
Have something to say: Before you open up a Facebook, Twitter or LinkedIn page, think about why you need these channels and what you want to say to people when they notice you. If you need help focusing your efforts, the Small Business Association has a number of tutorials that may help.
Become an expert: Who knows your business better than you? No one. So, use social to put yourself out there as a thought leader. Don't just re-post others' content, or post for sake of looking like a live account; offer your own insights and become a resource for others. Thought leadership is a form of marketing all its own.
To get started with social, keep these tips in mind and don't hesitate to lean on outside resources for support. Some marketing strategies are trial and error, and finding which social channels connect best with your customers requires experimentation.
3. Work on Winning the Web
We have all gone to search for something on a site like Google and clicked on one of the top results. But did you know it takes a large commitment to get to the top of a search engine's results page? Search engine optimization (SEO) is another way small businesses gain valuable exposure in a competitive online world. For a brief introduction to SEO and how it can help a small business, check out these online resources.
Search Engine Land: With tons of content about SEO, paid online advertising and how to gain an advantage with mobile content, Search Engine Land is a great resource for an entrepreneur who wants a digital advertising primer.
Google SEO Outline: Sometimes it helps to go straight to the source for the information you need. Google offers its own SEO tutorials that allow you to see what the search engine is looking for and how companies like yours can get ahead.
Search Engine Journal: Search Engine Journal is another online resource for contemporary digital trends and advice. You can find case studies, news, and even browse a number of networking and seminar events, should you want to travel to learn more.
Marketing a small business is a challenge. Most entrepreneurs have limited resources and even less time. They manage people, products, and services to try to grow their business, and often need help with marketing. Getting online, spreading the word about a company, and downloading podcasts to get advice directly from business leaders are great ways for entrepreneurs to learn and grow.
With more and more pressure on small business owners every day, HealthMarkets is committed to lessening the burden on entrepreneurs, individuals who truly are the backbone of the American economy. It's why we offer free health insurance consultations: so small businesses can find the healthcare options that are best for their employees. And it's why we have an experienced team available to answer all of your questions.
If you want to learn more about how to obtain and manage health insurance for your small business, call (800) 976-5818 and learn about all your options. There are resources out there to help you manage your small business. Let HealthMarkets be one that contributes to your success.