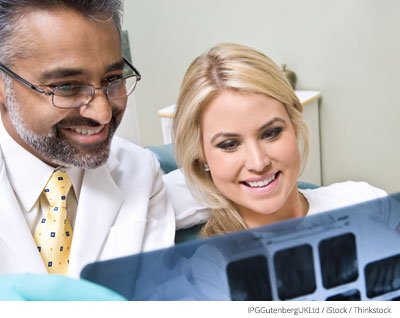 You probably aren't going to hear anyone bragging about the benefits of root canals. But, experts agree that they are extremely effective. A root canal can mean the difference between keeping an extremely infected tooth or losing it in an extraction. This could mean suffering the sometimes embarrassing consequences of a missing tooth.
Enrolling in dental insurance with no waiting period1 for your root canal procedure can dramatically reduce your out-of-pocket expenses. While each case varies, a root canal for:
an anterior tooth typically ranges from $500 to $1,000
a molar or premolar will run slightly more around $600 to $1,400.
A root canal procedure can prevent your tooth from falling out which could bring about a host of new problems including impaired speech, sunken cheeks, and bone loss.
Getting Around Dental Insurance Waiting Periods
Some dental insurance plans impose waiting periods of 6 to 12 months for more complicated dental treatment such as root canals or oral surgery. If you enroll in a plan with a waiting period, you will have no coverage for your root canal and will be forced to pay out of pocket for the entire procedure until that waiting period is over.
But don't fret. It is possible to find dental insurance with no waiting period for your root canal. Soon, your tooth can regain its full function, and you can return to your normal activities without pain and discomfort.
How Much Will My Dental Insurance Cover for Root Canals?
Save With Dental Insurance With No Waiting Period For Your Root Canal Procedure:
Root Canals cost anywhere from $500-$1200 without insurance
Insurance Plans with no waiting periods may pay a specific dollar amount for services or a percentage which increases each year on the plan
Find dental insurance with no waiting period so that you will receive coverage for your root canal
Dental insurance plans with no waiting period for root canals can vary in the way in which they provide benefits. Some plans pay a specific dollar amount for each covered service while others pay a percentage, which increases each year that the enrollee is on the plan (in your favor).
Plans that pay a particular dollar amount for each covered service may require the member to pay about:
$175 for root canals on anterior (front) teeth
$270 to $390 for molars and premolars.2
Plans that pay a percentage that increases each year may first pay 20% after the deductible is met, 30% in the second year, and then 50% in the third year (after deductible).2
An alternative to traditional dental insurance is a discount-only plan that can be paired with your comprehensive dental plan to help cover services that typically require a waiting period. Though not insurance, discount-only plans provide discounts on a range of dental services with a low monthly fee per household.
Not Sure About Your Coverage?
If you are not sure if your plan requires a waiting period for your root canal, be sure to ask your insurer about waiting periods. Also, after selecting your plan, you may ask your dentist for a treatment plan in advance with an estimate of the total fees. You may then send this information to your insurer to obtain a pre-treatment estimate which lays out how much your plan will cover and what your out-of-pocket expense may be.
What Next?
If you are ready to purchase dental insurance with no waiting period for your root canal, call HealthMarkets 24/7 at (800) 642-0607. Or, if you prefer, visit a local agent. Our agents will listen to your unique dental health and insurance needs to find a plan that is right for you.