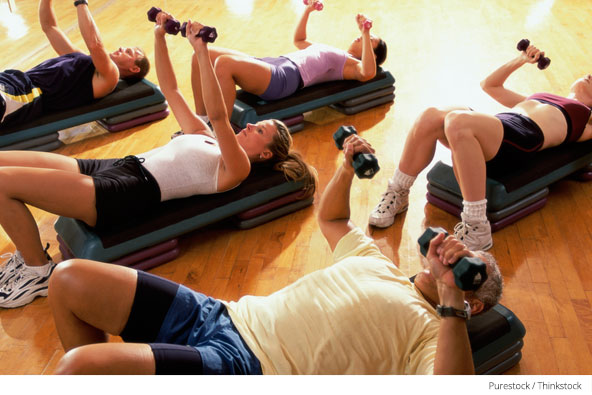 How much should you exercise? The guidelines are straightforward. According to federal health authorities, adults should perform at least two and a half hours a week of moderate-intensity aerobic activity or an hour and 15 minutes a week of vigorous-intensity aerobic activity. It's best to do aerobic activity for at least 10-minute sessions, optimally scattered throughout the week for maximum effect.
While some people can meet these guidelines through their work—think of construction workers or athletes—most Americans need to use their leisure time to get in enough exercise.
A new survey shows we're inching toward meeting the guidelines. Statistics from 2014 show that 47.8 percent of U.S. adults aged 18 and over met the federal physical activity guidelines for aerobic activity. That rate is up from 41.4 percent in 2006 and means people are getting the message that regular aerobic exercise is perhaps the most powerful preventive health tool you can use. Regular physical activity lowers the risk of heart disease, diabetes, most types of cancer, and helps build stronger bones and muscle strength. It's also an effective way to stave off cognitive decline and dementia in older age.
The survey, which comes from the National Health Interview Survey, a census-based population study on Americans, showed some surprising variation among gender and age groups:
People aged 18 to 24 are the most active of any age group, especially males. While that is not surprising, activity declines substantially for men by middle age. Only about half of all men age 25 to 64 meet the recommendations for aerobic exercise, and fewer than 50 percent of women in this age group get adequate aerobic exercise.
Exercise rates for men and women drop to under 50 percent for people age 65 to 74. (However, that figure only dropped a bit, to around 39 percent, among men ages 75 and older. That implies that men who are still exercising a lot after age 65 probably have a lifetime commitment to staying active.)
Of course, aerobic exercise is only half of the prescription. Guidelines also recommend that adults perform muscle-strengthening activities that involve all major muscle groups two or more days a week because these activities provide additional health benefits. Only about 21 percent of adults meet this recommendation. Still, that's an increase from about 16 percent a decade ago.
If you're not meeting the recommendations, here are some tips from the Centers for Disease Control and Prevention for getting on track.
Focus on 10 minutes at a time. Two and a half hours a week can sound daunting, but it's not necessary to do it all at once. It's actually best to spread your sessions out throughout the week. If carving out big blocks of time for exercise won't work for you, start with just 10 minutes of moderate or vigorous exercise.
Work your way up to more intense exercise. Start with moderate aerobic activities, like walking quickly, and build up to more vigorous exercises.
Break a sweat. A moderate or vigorous workout should get your heart rate up.You'll know you've achieved a moderate intensity if you are comfortably able to talk but not sing. Moderate aerobic exercise might include a brisk walk, water aerobics, riding a bike on easy terrain, or yard work like pushing a lawn mower. During a vigorous workout, you'll notice more changes to your breath and heart rate. You'll need to stop conversation every few words to catch a breath. Vigorous aerobic exercise can include jogging, swimming laps, riding a bike with more speed or on difficult terrain, or sports like singles tennis and basketball. One minute of vigorous exercise provides about the same benefit as two minutes of moderate exercise.
Exercise more to reap more benefits. Once you double the recommended amounts of moderate or vigorous exercise, you'll start to see more benefits to your health.
If you're an adult with a disability, regular physical activity can provide you with important health benefits, like a stronger heart, lungs, and muscles, improved mental health and a better ability to do everyday tasks. It's best to talk with your healthcare provider before you begin a physical activity routine. Try to get advice from a professional with experience in physical activity and disability. They can tell you more about the amounts and types of physical activity that are appropriate for you. If you are not able to meet the recommended amounts, you'll still benefit from participating in exercise at a level that works for you.