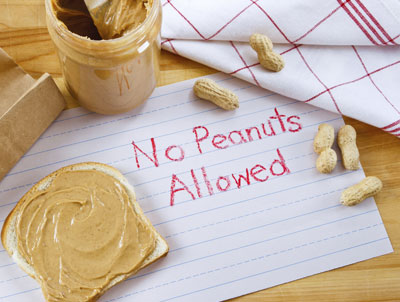 In recent years, Americans have gone to great lengths to protect a growing number of children with peanut allergies. Some schools have even banished peanuts or peanut-containing foods from being served on campus. Food allergies among children doubled between 1997 and 2011, according to the Centers for Disease Control and Prevention.  About 1.5% of small children experience allergic reactions to peanuts, which can run the gamut from annoyances like hives and abdominal pain to severe anaphylaxis, a whole-body allergic reaction that can be life-threatening.
But new, long-awaited research shows that the previous method to protect children with peanut allergies—avoiding peanuts—backfires. Instead, most children with peanut allergies should probably be slowly exposed to peanuts, which can help them overcome the allergy.
The study, published recently in the New England Journal of Medicine, suggests that sheltering babies and young children from certain foods and germs actually prevents their immune systems from becoming as strong as possible. Instead, eating peanut-containing products early in life could build a protective response to peanuts rather than an allergic response.
The researchers studied more than 600 babies between the ages of 4 and 11 months who, due to the presence of ecze ma or egg allergy, were  determined to be athigh risk for peanut allergies . Half of the children in the study   included peanut-containing snacks in their diet  at least three times  each week,  while the other children avoided foods containing peanuts.
At age 5, the study showed, 17 percent of the children who avoided peanuts had developed a peanut allergy compared to only 3 percent of the children who consumed peanut-containing foods early in life.
"For decades allergists have been recommending that young infants avoid consuming allergenic foods such as peanuts to prevent food allergies," says the study's lead author, professor Gideon Lack at King 's College London. "Our findings suggest that this advice was incorrect and may have contributed to the rise in the peanut and other food allergies."
It's still unclear whether this method may help reduce the risk of other types of food allergies. New guidelines on how to use exposure therapy are expected soon.