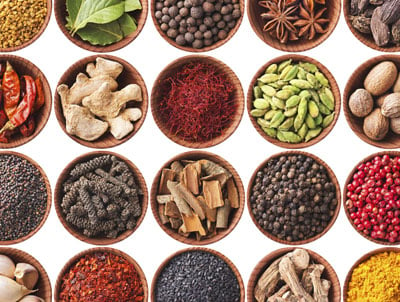 The popularity of packaged and processed foods has contributed to the excessive amount of salt in the American diet. Excess sodium in the diet can increase blood pressure and raise the risk of heart attack or stroke. But replacing salt with herbs and spices not only curbs sodium intake, many of those herbs and spices confer significant health benefits, according to a summary of evidence published recently in the journal Nutrition Today. For example:
Chili pepper — Capsaicin can help promote satiety (feeling full) and promote energy expenditure.
Cinnamon — Can promote better use of insulin and normalize blood glucose (sugar) levels as well as improving blood cholesterol levels.
Garlic — Helps lower cholesterol levels.
Ginger — Helps reduce inflammation in the body.
Tarragon — May help lower blood sugar levels and prevent blood clots.
Oregano — High in antioxidants, which are compounds that help prevent damage by free radicals. Free radicals are molecules that can contribute to various disease processes.
Many other herbs and spices carry antioxidant properties, promote satiety or lower blood sugar levels, and both the food industry and consumers have taken note of these benefits. Grocery store shelves are now packed with herbs and spices that can be used to flavor foods in place of salt.
Today, about 38 percent of consumers report that they use spices and herbs as alternatives to salt for flavoring foods. Other studies show adding spices and herbs to foods like lean hamburger meat, vegetables and pasta significantly improves how much people enjoy eating those foods.