Fall is here and as the temperature drops and people cozy up in sweaters, the urge for fall spices and flavors can be seen everywhere. Get your fix at breakfast with this hearty pumpkin-infused oatmeal. Reminiscent of pumpkin pie, this pumpkin oatmeal has all the lure of a dessert while still being health conscious.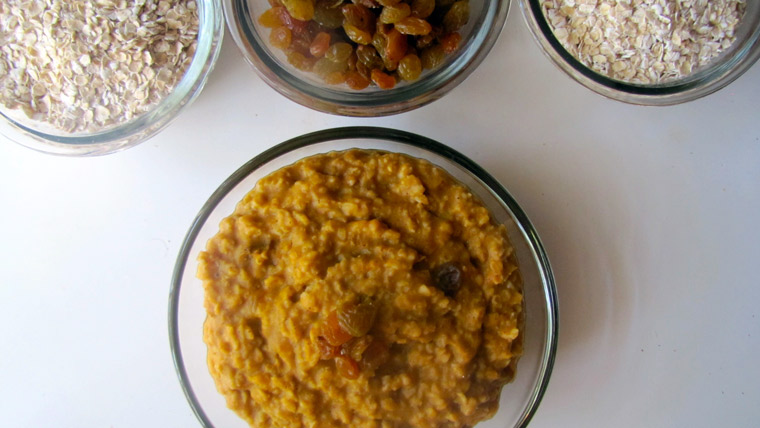 Ingredients
1 can pumpkin purée (unseasoned)
2 cups quick cooking oatmeal (not instant)
2 cups unsweetened almond milk
2 cups water
3 tablespoons golden raisins
1/2 teaspoon cinnamon
1/4 teaspoon nutmeg
1/4 teaspoon ground cloves
1/8 teaspoon ground ginger
1/4 teaspoon salt
2 tablespoons honey (and additional for topping oatmeal later)
Directions
Heat a large saucepan over high heat. Combine all ingredients except for the oatmeal (pumpkin purée, spices, milk, water, salt, honey, and raisins) in the pan and bring to a boil.
Once boiling, add in the oatmeal and reduce the heat. Stir frequently on low to medium heat for approximately 15 minutes until the oats are tender.
Serve topped with honey drizzle.