Summer is in full swing and we are right in the middle of grilling season. These skewers can be prepared ahead of time, and take only ten minutes to cook on a preheated grill. The ranch and rosemary marinade is delicious on all kinds of vegetables (including potatoes), so don't limit yourself to onions, bell peppers, and mushrooms. You may want to set aside some extra marinade to baste the skewers as they are grilled, or pre-cook some rice to serve alongside the skewers. If you're tired of the same old barbecue, this ranch marinade will change things up – for the better!
Ingredients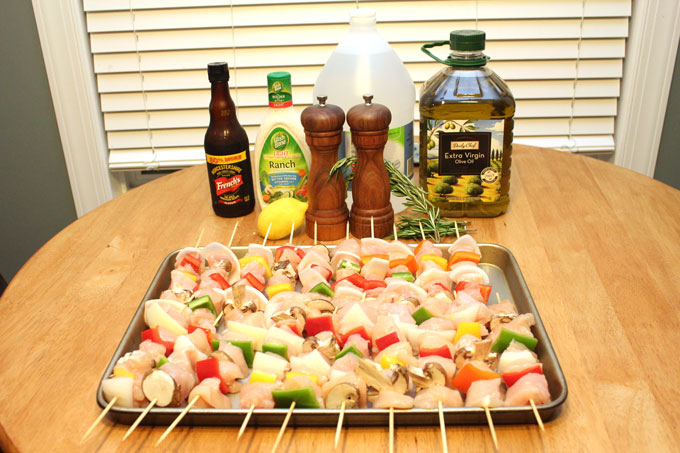 Skewers
6 boneless, skinless chicken breasts, cut into cubes
1 cup light ranch dressing
½ cup extra virgin olive oil
⅓ cup Worcestershire sauce
3 Tbsp. minced fresh rosemary
1 Tbsp. lemon juice
1 Tbsp. vinegar
1 Tbsp. sugar
½ tsp. black pepper
1 large sweet onion
3 bell peppers (orange, red, yellow, green – your choice!)
6 oz sliced mushrooms
Directions
Cut the vegetables into one-inch chunks and thread onto the skewers, interspersing with the chicken breast.
In a medium-sized bowl, mix the EVOO, ranch dressing, Worcestershire sauce, rosemary, lemon juice, vinegar, pepper, and sugar. Let the marinade stand and thicken for five minutes.
Coat the skewers with the marinade, cover, and refrigerate for a few hours or overnight.
When you're ready to cook the skewers, preheat the grill to medium-high heat. Discard the extra marinade, oil the grill grate, and cook skewers about five minutes per side, until chicken is cooked through.