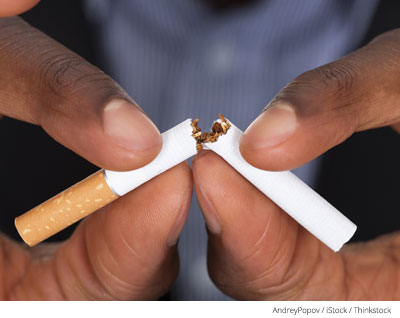 When e-cigarettes came on to the U.S. market about eight years ago, they were touted as aids that could help people quit smoking. Proponents claim the devices are not as harmful as cigarettes and can give smokers a nicotine fix while they work to quit smoking entirely. But that promising vision of e-cigarettes as a smoking cession device isn't panning out.
A new study shows that smokers who used e-cigarettes were 49 percent less likely to decrease cigarette use and 59 percent less likely to quit smoking compared to smokers who never used e-cigarettes. The study, published recently in the American Journal of Public Health, followed 1,000 California smokers over the course of one year.
"Based on the idea that smokers use e-cigarettes to quit smoking, we hypothesized that smokers who used these products would be more successful in quitting," says Wael Al-Delaimy, MD, PhD, professor and chief of the Division of Global Public Health in the Department of Family Medicine and Public Health at the University of California, San Diego. "But the research revealed the contrary. We need further studies to answer why they cannot quit. One hypothesis is that smokers are receiving an increase in nicotine dose by using e-cigarettes."
More studies are needed to understand the potential health dangers of e-cigarettes. The devices do not contain tobacco. But users breathe a mixture of organic compounds, heavy metals and ultrafine particles, the researchers said.
"There is a lot of misinformation about e-cigarettes," says Ron Chapman, MD, MPH, director of the California Department of Public Health, which funded the study.