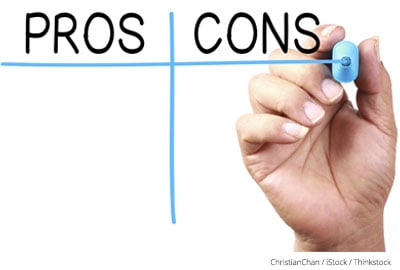 The Affordable Care Act (ACA) has garnered a lot of debate since its implementation in 2010.
The market continues to change as the healthcare reform debate continues. Initially, many health insurance companies—lacking the information they needed to ensure their financial stability—left the ACA's marketplaces. As the marketplace stabilized, some companies returned, and others continue to expand their offerings.1
What Are the Pros and Cons of the Affordable Care Act?
To weigh both sides of the ongoing debate, here are a few of the often-debated Affordable Care Act pros and cons.
Pros:

Subsidies offer financial help2
Subsidies make purchasing health insurance less expensive for those who qualify. Also, the implementation of the 80/20 rule means 80% of your premium dollars is spent on healthcare instead of administrative costs.

Preventive care3
All qualified health insurance plans must provide 10 essential health benefits. These benefits include preventive care and wellness visits with no copay, deductible, or coinsurance.

No pre-existing condition denials4
Insurance companies also cannot deny coverage for a pre-existing condition (unless your plan is grandfathered).

Medicaid is more inclusive for many5
For states that have chosen to expand their program, Medicaid coverage now includes uninsured Americans under 138% of the federal poverty level.

Dependents can stay under parents' plan longer6
Your children can be insured under your health plan until they are 26 years old.

No more limits7
Limits on lifetime benefits have been completely banned and annual limits phased out. (This does not include grandfathered plans).

Cons:

The cost has not decreased for everyone8,9
Those who do not qualify for subsidies may find marketplace health insurance plans unaffordable. Customers may end up paying more for a plan that includes benefits, such as maternity care, that they may not need.

Loss of company-sponsored health plans10
Some businesses may find it more cost-effective to let their employees purchase their own individual insurance on the exchanges rather than provide employer-sponsored coverage.

Tax penalties11
Prior to 2019, you could face large tax penalties if you were uninsured. The federal tax penalty no longer exists, but some states are now enacting health insurance mandates of their own.

Shrinking networks12
Many insurance companies made their provider networks smaller to cut costs while implementing ACA requirements. This left customers with fewer providers that are "in network."

Shopping for coverage can be complicated
Shopping for coverage can be complicated with limited enrollment periods, difficulties with the websites, and more coverage options.
How Can I Learn More About Individual Health Insurance Plans?
Regardless of the Affordable Care Act pros and cons, HealthMarkets can be a helping hand in figuring out your health insurance options. Use HealthMarkets' FitScore® to find and compare individual health insurance plans that meet your needs. Plans with the highest FitScore are the most ideal match for your healthcare needs. Explore all your options, and let us help you find coverage that meets your needs and budget, even if it's an option that doesn't include plans we offer. Call us today at (800) 304-3414.