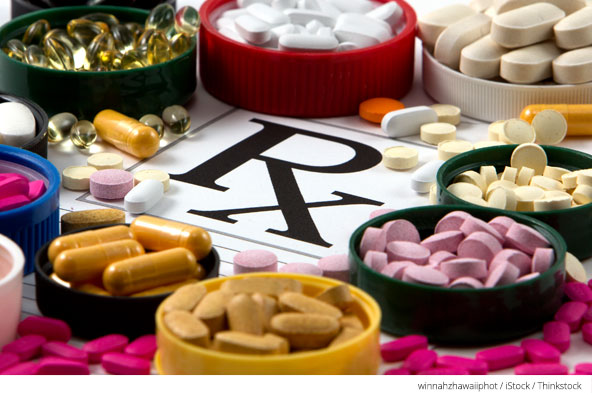 When reviewing you prescription coverage, it's important make sure your drug formularies are included. By ensuring your medications are covered, you can be sure to save money when filling prescriptions at the pharmacy. But what are drug formularies, and how can you check to see if yours are covered?
Drug Formularies
A "drug formulary" is a list of prescription medications that a health insurance plan will cover. Each plan has its own unique formulary of covered prescriptions, so it's important to compare your prescriptions to those listed on each plan. All medications must meet the Food and Drug Administration's (FDA) safety standards.
Plan Formulary Examples
For example, let's say there are 6 known medications to treat asthma. Prescriptions (Rx) A, B, and C are brand name drugs, while D, E, and F are generics. Health Insurance Plan A, which includes medical and prescription drug insurance, has listed the 3 generics on its drug formulary and will cover prescriptions D, E, and F. Health Insurance Plan B will cover prescriptions C, D, and E.
If you are over 65, a better example may concern a Medicare Advantage or Medicare Part D formulary. Medicare Rx formularies will work in the same way individual and family health insurance formularies work. Let's say there are 4 medications to treat high blood pressure. Prescriptions A and B are brand names, while C and D are generic. Medicare Advantage Plan 1 covers prescriptions A and C, and Medicare Part D Plan 2 covers prescriptions B and D.
In short, your coverage for medications will be affected by your policy. Make sure to check the drug formulary before selecting a plan.
What Can You Do if Your Medication Is Not on Your Plan's Formulary?
Before choosing a plan, consider your prescription coverage needs:
How many prescription medications do you currently take?
Will this plan cover your current medications or reasonable alternatives?
Can you request medications be added to the plan's formulary if medically necessary?
If your prescription coverage does not include a specific medication, that doesn't necessarily mean you can't get coverage. Your doctor can submit a "prior authorization request" to the health insurance company. This form will show that a prescription is medically necessary, and the insurance provider may decide to cover that medication.
You can also submit a prior authorization request for a Medicare prescription drug plan formulary. Medicare prescription coverage lists can seem like another confusing piece of the puzzle, but don't worry. A doctor can request that certain medications be covered if they are deemed medically necessary. Then, a Medicare Advantage or Part D plan could include that medication to your plan's drug formulary.
How to Find Your Drug Formulary List
There are ways you can check your plan's drug formulary:
Your physician: when your physician is prescribing a new medication, you can ask if it is covered under your plan's formulary.
Your pharmacist: a pharmacist can tell you if a medication is covered when you fill it.
Your agent: if you have a health insurance agent, he or she can help you find your plan's drug formulary list.
Your insurance company: you can call your insurance company to review your drug formulary.
Insurance company websites: if you want to check prescription coverage before choosing a plan, many websites post their drug formularies online with the insurance plans.
Summary of benefits and mailed coverage materials: a list of your covered prescriptions may also be found in the materials your insurance company mails you when you begin coverage, including your summary of benefits.
HealthMarkets Can Help You Find The Right Medical and Prescription Drug Insurance
Getting prescription coverage could mean savings at the pharmacy. Having the right prescription coverage for your unique needs can save you even more. Call HealthMarkets today at (800) 304-3414 and speak to one of our licensed insurance agents. Or, meet with an agent near you. They can help you review your plan options, spot potential savings, and find a plan that suits your needs.