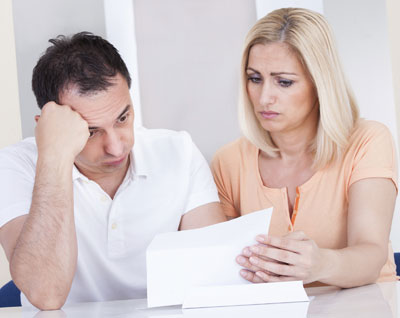 When you received your health insurance cancellation letter, it may have come as a surprise. Luckily, it's not as bad as it might seem and you've got plenty of time to take action, replace your policy, and even prevent a gap in your health coverage.
We can help explain:
Why this happened and how it can it affect your coverage
What you can do to re-enroll and when
Where you can turn for help
Why Did This Happen? How Can It Affect Your Coverage?
While the insurance cancellation letter may be incredibly dull, it's worthwhile to read it from top to bottom. But, essentially getting an insurance cancellation letter (or non-renewal notice) means that your insurance is being terminated—often due to no fault of your own. Many companies leave the individual health insurance market entirely or discontinue certain plans for a variety of reasons. The bad news is that there is nothing you can do to renew your previous plan.
The good news is that despite the inconvenience of re-enrolling, you may actually have better options available than you did before.
Essential Health Coverage
For one thing, insurance companies are no longer allowed to deny or exclude coverage for any pre-existing conditions. In fact, all health insurance plans ("qualified health plans") are required to include 10 essential benefits as mandated by the Affordable Care Act:
Outpatient care
Emergency services
Hospitalization
Maternity care and newborn care
Mental health and substance use disorder services
Prescription drugs
Rehabilitative and habilitative services
Laboratory services
Preventive and wellness services
Pediatric services, including oral and vision care
It's possible that your insurance cancellation letter included some new policy options available to you.
But, don't forget that you do have options and time to shop around to get the best bang for your buck. (No matter what, any plan you enroll in will cover at least those 10 things!)
What You Can Do (and When)
If you've heard of the Obamacare Open Enrollment Period, you may have also heard that it occurs during a fixed window of time. There's lot of talk about how if you've missed the window, then you're out of luck to enroll until the next year. This does not apply to you!
Obamacare extends, what they call, "special enrollment periods" to individuals who experience certain "qualifying life events." So what counts as a qualifying life event? To name just a few:
Getting married
Having a baby
Relocating out of state
Losing your health coverage
We know that your insurance cancellation letter counts as a qualifying life event, which means it triggered your very own special enrollment period (SEP). So you definitely have the option to enroll in a replacement policy. But it's still a window of time you're restricted to. So what does that look like?
Details About Your SEP
Your Next 5 Steps
Read your insurance cancellation letter.
Know your effective date of cancellation.
Mark the "mini-deadlines" on your calendar.
Call an insurance agent to explore your options.
Sign up for new coverage to avoid a gap.
Simply put, you have a 105-day window to replace your policy: from 45 days before your stated termination date up to 60 days after. That means you can replace your policy before it ever expires or, if you want, you can wait. (And if you're uninsured for no more than 2 months of the year, you don't have to pay the tax penalty everyone keeps talking about.)
During your SEP, there are recurring, let's call them, "mini-deadlines" for coverage. This is the most important thing to remember about your special enrollment period. What are these mini-deadlines and how do they work?
From the beginning to the end of your SEP, every 15th of the month is the last day you can enroll for coverage to begin on the 1st of the next month.
So, if my insurance cancellation letter shows that my policy expires on December 31 and I want my coverage to begin on January 1, I need to enroll on or before December 15. If I wait until December 16, I will not have coverage on January 1 though a qualified health plan and I may experience a gap.
Or I can decide that I want a lot of time to shop around. So I let my policy expire on December 31. If I want to be covered by March 1 of the next year (when my SEP ends), I would have to enroll on or before February 15.
Don't forget to mark your calendar. Those mini-deadlines may come and go pretty quickly if you're not watching for them.
Where You Can Turn for Help
You can come to us!
HealthMarkets understands that there is no right time to receive a health insurance cancellation letter. We want to help you minimize the inconvenience and replace your coverage. (There's a reason HealthMarkets was given an "A+" rating from the Better Business Bureau—the highest rating the organization awards.) It's our mission to make insurance shopping easy, so you can focus on the important things in life.
We have licensed agents standing by to help you enroll. Call (800) 304-3414 or find a local agent to get assistance with finding new coverage and answer any additional questions you may have – at no cost to you.
With access to more than 200 different insurance companies and thousands of plans nationwide, a HealthMarkets agent can help find the right plan for you. We can help you navigate the insurance marketplace and find a budget-smart plan for your household.
Obamacare Subsidies
You might even qualify for an Obamacare subsidy, or a premium tax credit. Tax credits can be used to lower the cost of your premiums.  For 2017, most people could select a plan with a premium from $50 to $100 per month or less with tax credits!
Even though you've received an insurance cancellation letter or non-renewal notice, don't worry. Our licensed agents are always here to lend a hand. But don't just take our word for it—read about a few of our happy customers in these HealthMarkets reviews.
With HealthMarkets on your side, you can rest easy. Call us at (800) 304-3414 and we'll help get you covered.