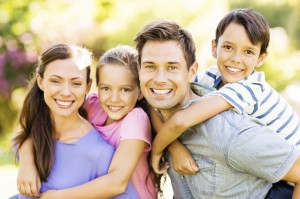 September is Life Insurance Awareness month, and to celebrate, HealthMarkets wants to let you know a little more about your options. Life insurance is simple, right? You buy a policy, pay for it in installments, and then upon your death it issues benefits to your loved ones to help them with funeral and other expenses. Everyone knows that.
But did you know that life insurance policies are an asset, and you can use them to your advantage in case of unexpected medical costs? One way to do this is to use an advance payment on your policy's death benefit to help you during a long-term illness.
Accelerated Benefits
If you become terminally or chronically ill, it may be possible to have your life insurance benefits paid directly to you during the course of your illness. These payments are called 'accelerated benefits' or 'living benefits.' Some policies include this provision to begin with; in some policies, you can choose to attach it as a rider. Then, if you find yourself in certain medical circumstances, you may become eligible for early payments that can help offset the costs of your medical care.
These circumstances are not fun to think about. But you may find yourself in one of them, so you need to be prepared.
What can trigger accelerated benefits?
Terminal illness
Acute illness that will become terminal or life-threatening without treatment, like heart disease
Illness or injury requiring extraordinary treatment, like an organ transplant
Long-term, in-home care because you cannot perform daily functions like eating and bathing
Permanent confinement in a nursing home
Knowing that you have a little bit of cushion in the case of unfortunate circumstances like these may just help you sleep better at night.
Paying for Accelerated Benefits
You may be able to pay for accelerated benefits in one of several ways that depend on your policy's terms. The cost may be included in your insurance premium to begin with. It also may be added to your premiums for a small fee, often a percentage of the base premium. In some cases, you may only be charged for accelerated death benefits if you choose to use them.
Receiving Accelerated Benefits
When you cash in on your accelerated benefits, it's important to remember that you're reducing the amount paid to your beneficiaries after your death. Essentially, you're spending your death benefits. If you use most of your benefits during the course of your illness, your beneficiaries will be left with very little upon your death, so you'll have to decide which financial burden is more important to ease.
According to the American Council of Life Insurers, accelerated benefits usually range from 25 to 95 percent of the death benefit, depending on your policy and the state you live in. If you have loans against a policy, that's also a factor; it will reduce the amount that can be accelerated.
Each policy or rider specifies the payment method. Sometimes benefits are paid monthly; in other cases, recipients are paid in a lump sum. You also may be able to choose a method of payment.
In most cases, you will not have to pay federal income taxes on your accelerated benefits. However, in the case of chronic illness, you may have to continue to prove your condition to the IRS in order to avoid being taxed. So before you choose to accelerate your benefits, talk to a tax advisor. You should also check your policy, talk to your state insurance office, and speak with a licensed health insurance agent like those at HealthMarkets. Many variables factor into your decision, and you'll need to understand all of them before you pick the best course of action.
Life Insurance from HealthMarkets Insurance Agency
Whether or not you choose to include accelerated benefits in your life insurance policy, HealthMarkets can help you find options that protect your family. If you need life insurance, contact us today. You can speak with a local agent at your convenience. We have more than 3,000 licensed agents nationwide who would love to talk to you.