The Right Coverage at the Lowest Price
Your search for affordable Health, Medicare and Life insurance starts here.
Do you need to buy individual or family health insurance in California?
Shopping for health insurance in California can seem a little overwhelming. In addition to private individual and family health insurance plans, California offers a variety of public health insurance programs under the Affordable Care Act, including Medi-Cal (California's Medicaid program) and the County Medical Services Program. Individual and family health insurance plans can be purchased through the state exchange "Covered California" and through a private exchange like HealthMarkets.
HealthMarkets offers plans from more than 300 insurance companies across the United States and provides access to licensed agents who can help you compare major medical insurance policies. HealthMarkets' free service helps you uncover a plan based on your unique financial and health needs. 
Don't search for health insurance on your own. HealthMarkets can help you find the right health insurance plan in California. Contact us today by getting a quote online or finding an agent.
What's the Current State of Health in California?
The Scorecard on State Health System Performance 2018 by The Commonwealth Fund ranked California 14 out of 50 states and the District of Columbia. Your state scored well for healthy living (5) and avoidable hospital use and costs (11). It received lower marks for healthcare access (23) and prevention and treatment (40).
America's Health Rankings 2018 ranks the Golden State 12. It cited a low prevalence of smoking and obesity, as well as a low infant mortality rate and a high number of dentists as strengths. Air pollution, low immunization in children, and low Tdap immunization coverage among adolescents were listed as challenges.
Gallup reports the number of California residents without insurance decreased from 21.6 percent in 2013 to 10.7 percent in 2017 (a 10.9 percent drop). 
The state recently announced plans to expand subsidies. An estimated 922,000 people will be eligible for these new state-sponsored premium reductions.
It is important to understand the health risks you face and ensure your health insurance plan gives you the coverage you need to stay as healthy as possible. 
What Is a Health Insurance Exchange? 
Under the Affordable Care Act (ACA), a new system for purchasing health insurance plans was developed. This new system is called an exchange (or marketplace). 
The Henry J. Kaiser Family Foundation defines the goal of exchanges as creating "a more organized and competitive market for health insurance by offering a choice of health plans, establishing common rules regarding the offering and pricing of insurance, and providing information to help consumers better understand the options available to them." 
There are three types of health insurance exchanges: 
Federal exchange (not available in California)

State-run exchange (Covered California)

Private exchange (HealthMarkets)
Should I Buy Health Insurance Through Covered California or HealthMarkets? 
The state health insurance exchange can only offer you products that are listed on the exchange. At HealthMarkets, we can offer more coverage options to ensure you get the best plan for your needs—even off-exchange plans.
HealthMarkets agents are licensed and understand the options available both on and off the exchange. They are available 24/7 to answer your questions and provide personalized advice throughout the health insurance buying process. These services are not necessarily available through your state's exchange.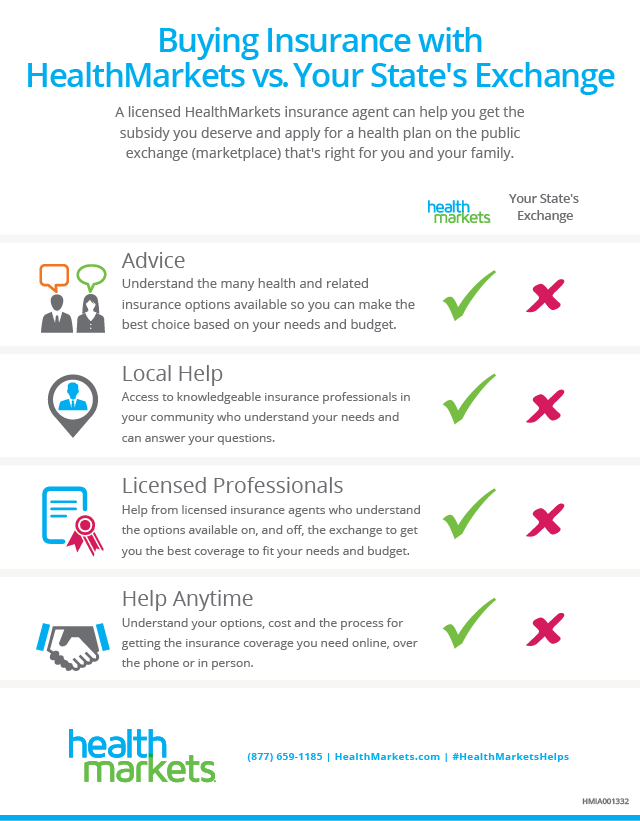 Do I Really Need to Buy Health Insurance? 
Even the most routine activities can leave you vulnerable to injury or illness. A three-day hospital stay costs an average of $30,000, fixing a broken leg can cost up to $7,500, and comprehensive cancer care can cost hundreds of thousands of dollars. Without health insurance, you would be required to pay for your care entirely out of pocket, potentially resulting in financial debt and even bankruptcy. 
Health insurance also provides preventive care such as cancer screenings and vaccinations. The right coverage enables you to take charge of, and fully understand, the state of your health. 
Additionally, California residents who do not have health insurance risk
paying a state tax penalty
. This penalty is expected to begin in 2020. It could cost you 2.5% of your household income or $695 per adult, whichever is higher.
How Much Does Health Insurance Cost? 
The amount you pay for health insurance coverage will differ based on a variety of factors, including the type of plan you choose, the frequency of care needed, and the type of medical services required. There are three main ways you pay for health insurance: 
Premium

: what you pay your insurance company each month for coverage. The amount depends on the health plan you select. Multiply your premium amount by 12 to calculate the yearly cost of your plan.

Deductible: a set amount you must pay before your insurance company starts paying its share of the bills. Deductibles could be $500, $1,000, or more. Your deductible resets each year.
Copayments and Coinsurance

: total plan costs depend on the number of doctor visits, frequency of prescription refills, and other types of medical services. Copays are a flat fee (e.g., $20 to visit a doctor's office). Coinsurance is a percentage of costs (e.g., 25 percent of the cost of a prescription drug).
The cost of your insurance will also depend on your subsidy eligibility. You may be eligible for federal subsidies that lower premiums and out-of-pocket costs. These subsidies are based on your income and household size. California residents may also be eligible for additional state subsidies that lower premium costs starting in 2020. These subsidies are based on age, income, household size, and local healthcare costs. 
It is estimated that 235,000 middle income residents will be eligible for a 23% reduction in premiums. Additionally, 663,000 current recipients of federal subsidies will receive an additional 5% reduction to their premiums. Residents who fall below 138% of the Federal Poverty Line will have their premiums for benchmark plans reduced to $1 per month. It's important to note that state subsidies are in addition to federal subsidies.
To see which subsidies you may be eligible for, please see the tables below. 
Federal Premium Subsidy Income Limit
Household Size

Minimum Income –
100% Federal Poverty Level

Maximum Income –
400% Federal Poverty Level

One individual

$12,490

$49,960

Family of 2

$16,910

$67,640

Family of 3

$21,330

$85,320

Family of 4

$25,750

$103,000
| | | | |
| --- | --- | --- | --- |
| Household Size | Up to 138% of FPL | 200% - 400% of FPL | 400-600% of FPL |
| One individual | $0 - $17,237 | $24,980 - $49,960 | $49,960 - $74,940 |
| Family of 2 | $0 - $23,336 | $33,820 - $67,640 | $67,640 - $101,460 |
| Family of 3 | $0 - $29,436 | $42,660 - $85,320 | $85,320 - $127,980 |
| Family of 4 | $0 - $35,535 | $51,500 - $103,00 | $103,000 - $154,500 |
What Is the Affordable Care Act? 
The Affordable Care Act—also referred to as Obamacare—was signed into law by President Barack Obama in March 2010. According to the U.S. Department of Health & Human Services, the law intends to "make health care more affordable, accessible, and of a higher quality for families, seniors, businesses, and taxpayers alike. This includes previously uninsured Americans, and Americans who had insurance that didn't provide them adequate coverage and security."
Some of the benefits of the Affordable Care Act include: 
No denial of coverage because of a pre-existing condition

Preventative care at no cost 

Annual and lifetime coverage caps are lifted

New consumer protections 

Subsidies to make premiums more affordable

Access to health insurance through marketplaces
How Is the Affordable Care Act Impacting California? 
California was one of the earlier adopters of the Affordable Care Act and has since been a leader in health insurance enrollment. In 2017, 2,307,544 Californians joined the individual health insurance market from both inside and outside of the Covered California exchange, as reported by the California Health Care Foundation. 
California, Florida, Texas, and Georgia accounted for about half of the 46 percent enrollment growth rate nationwide for individual policies from December 2013 to December 2014, according to a report from the Kaiser Family Foundation. 
Approximately half of all Californians still receive health insurance coverage through their employers, but the number of organizations in California offering health benefits to employees has been declining. In 2016, 55 percent of employers in California provided employees with coverage, compared with 69 percent in 2000. Despite the decline in employer-sponsored health insurance, many Californians realize the risk of not having coverage and opt for individual and family plans.
What Are the Different Types of Health Insurance Plans in California?
There are four ways to obtain health insurance in California:
Employer-Sponsored Plans. Employer-sponsored plans typically come with a few options in coverage. The employer choosed group plan options, and employees must pick between these. They often include coverage for dependents, as well as additional coverage for dental and vision care.
State Marketplace Plans. Covered California is a state marketplace that offers on-exchange plans to Californian residents. Marketplaces do not include off-exchange plans. They typically follow one of the following models:

Preferred Provider Organization (PPO)
Point of Service Plans (POS)
High-deductible Health Plan (HDHP)

Private Marketplace Plans. Private health insurance plans are purchased individually through a private marketplace like HealthMarkets or through insurance companies. They offer on- and off-exchange plans that are ACA compliant. Private plans also typically follow one of the following models:

Health Maintenance Organization (HMO)
Preferred Provider Organizations (PPO)
Point of Service Plans (POS)
High-deductible Health Plan (HDHP)

State- or Federally Funded Plans.

There are several types of state- and federally-funded plans available in California:

Medi-Cal:

Free or low-cost health coverage for residents of California who meet requirements for eligibility.

Includes the comprehensive set of benefits known as "

essential health benefits

."

Covers low-income children and adults, pregnant women, and families.
The recent expansion of Medi-Cal provides coverage to eligible single adults without children.

For many individuals with Medi-Cal coverage, there is no premium, no co-payment, and no out-of-pocket costs.

Medicare:

Federal government insurance program for adults 65 and older, adults under 65 with certain types of disabilities, and people with end-stage renal disease.
Different parts of Medicare cover specific medical services:

Part A (Hospital Insurance): inpatient hospital stays, care in a nursing facility, hospice care, and certain home health care.
Part B (Medical Insurance): certain doctors' services, outpatient care, medical supplies, and preventive services.
Part C (Medicare Advantage Plans): a type of health plan offered by a private company contracted with Medicare to provide Part A and Part B benefits.
Part D (Prescription Drug Coverage): adds prescription drug coverage to Original Medicare, some Medicare Cost Plans, some Medicare Private-Fee-for-Service Plans, and Medicare Medical Savings Account Plans.

County Medical Services Programs (CMSP):

Provides limited-term health coverage for low-income, indigent adults that are not otherwise eligible for other publicly funded health programs.
35 primarily rural counties in California participate in the program.
The 11-member governing board sets program eligibility requirements, determines the scope of covered healthcare benefits, and sets the payment rates paid to healthcare providers delivering services to CMSP members.
Participating counties include Alpine, Amador, Butte, Calaveras, Colusa, Del Norte, El Dorado, Glenn, Humboldt, Imperial, Inyo, Kings, Lake, Lassen, Madera, Marin, Mariposa, Mendocino, Modoc, Mono, Napa, Nevada, Plumas, San Benito, Shasta, Sierra, Siskiyou, Solano, Sonoma, Sutter, Tehama, Trinity, Tuolumne, Yolo, and Yuba.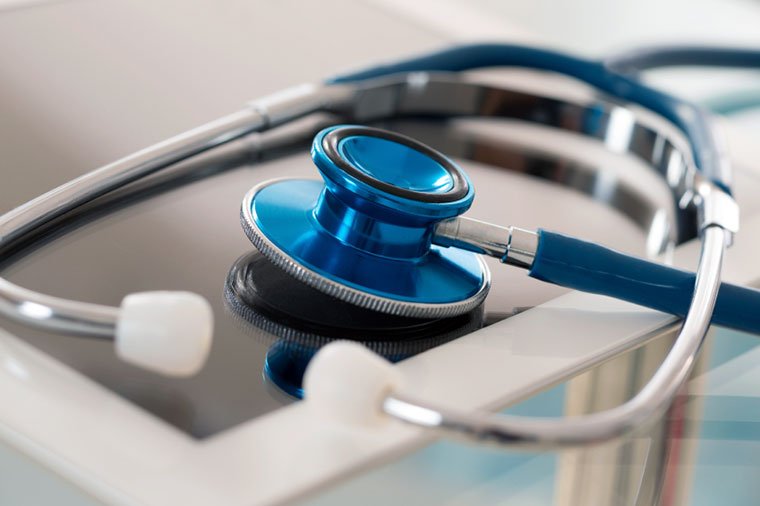 Acute inpatient hospital care

Adult day healthcare services

Audiology services

Blood and blood derivatives

Chronic hemodialysis services

Limited dental services

Durable medical equipment (DME)

Emergency air and ground ambulance services

Hearing aids

Home health agency services

Hospital outpatient services and outpatient clinic services

Infusion therapy

Laboratory and radiology services

Medical supplies dispensed by physicians, licensed pharmacies, or DME dealers

Non-emergency medical transportation when medically necessary

Occupational therapy services

Inpatient and outpatient heroin detoxification services (including methadone maintenance)

Pharmaceutical services provided by network pharmacies

Physical therapy services

Physician services

Podiatry services

Prosthetic and orthotic appliances

Psychiatry services (inpatient and outpatient provided by a licensed, in-network psychiatrist)

Speech therapy services
The following services are not included: 
Pregnancy-related services

Infertility services

Long-term care facility services

Chiropractic services

Acupuncture services

Optometry services

Mental health and substance abuse counseling services provided by a psychologist, MFT, LCSW, or substance use disorder counselor

Cosmetic services

Sexual reassignment services

Public transportation such as airplane, bus, car, or taxi rides

Methadone maintenance services

All services provided outside of the State of California and designated border state areas

Services extended by providers that do not participate in the CMSP network administered by Advanced Medical Management (excluding emergency services) and the MedImpact Healthcare Systems pharmacy network 

Organ transplants for persons who are eligible for CMSP emergency services only under aid code 50
Ready to Buy a California Health Insurance Plan?
Use the National Health Council's application checklist to ensure you have all the information you need, then give us a call today at (800) 360-1402 or get a quote online to see how HealthMarkets can help you receive coverage in California.
---
HMIAMKT0171
References:
https://interactives.commonwealthfund.org/2018/state-scorecard/state/california | https://www.healthinsurance.org/california/ | https://www.healthcare.gov/why-coverage-is-important/protection-from-high-medical-costs/ | https://www.hhs.gov/healthcare/about-the-aca/index.html | https://www.kff.org/health-reform/issue-brief/data-note-how-has-the-individual-insurance-market-grown-under-the-affordable-care-act/ | https://www.kff.org/other/state-indicator/total-population/?currentTimeframe=0&sortModel=%7B%22colId%22:%22Location%22,%22sort%22:%22asc%22%7D | https://www.chcf.org/publication/california-employer-health-benefits-prices-up-coverage-down/ | https://www.chcf.org/publication/california-employer-health-benefits-prices-up-coverage-down/ | http://www.webmd.com/health-insurance/types-of-health-insurance-plans> | http://www.dhcs.ca.gov/Pages/Medi-CalExpansionInformation.aspx | http://www.dhcs.ca.gov/services/medi-cal/eligibility/Pages/Medi-CalFAQs2014a.aspx | https://www.medicare.gov/sign-up-change-plans/decide-how-to-get-medicare/whats-medicare/what-is-medicare.html | http://www.cmspcounties.org/about/program_administration.html | http://www.cmspcounties.org/about/participating_counties.html  | https://aspe.hhs.gov/poverty-guidelines  | https://www.coveredca.com/news/pdfs/State_Subsidy_and_Mandate_Fact_Sheet.pdf