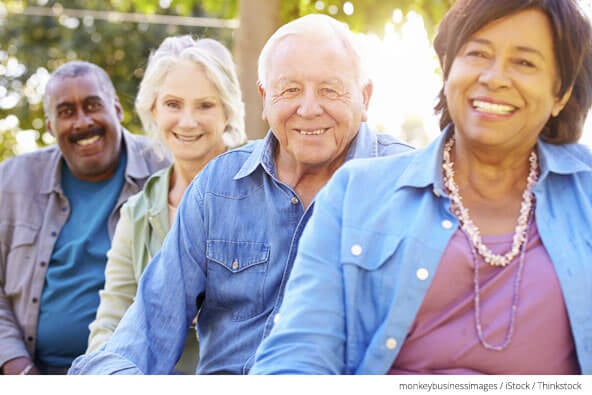 Senior dental insurance plans are specifically designed to help address the unique needs of senior oral health and fill the gap in coverage left by Original Medicare. Read on for information about the coverage and cost of dental insurance for seniors over 65.
Should Seniors Buy Dental Insurance?
Yes, seniors should buy dental insurance. Dental insurance for seniors over 65 is not included in Original Medicare (unless medically necessary) or Medigap supplement plans. So, seniors must look elsewhere for dental coverage that can help protect their teeth.
Does Medicare Have a Dental Plan for Seniors?
Yes, Medicare has dental plan options for seniors. For example, you could enroll in a Medicare Advantage plan. Many Medicare Advantage plans include vision, dental, and prescription drug coverage. These benefits are coordinated together, so any premium costs will be included in your Medicare Advantage premium. Just be aware that dental benefits are usually limited to cleanings, exams, and bitewing X-rays, depending on the plan.
If you are looking for more comprehensive coverage, you may want to add a stand-alone dental plan. Stand-alone dental insurance plans for seniors are sold by private insurance companies and don't need to be coordinated through Medicare. They will have a separate premium, but stand-alone plans can be considered affordable for the coverage they provide. Get your free HealthMarkets FitScore® to compare Medicare Advantage plans with dental coverage for seniors.
What Do Plans Designed for Seniors Cost?
If you enroll in Medicare Advantage, your plan may already include dental coverage for seniors. Otherwise, the cost of stand-alone dental insurance plans for seniors over 65 will depend on the level of coverage chosen. Usually, monthly premiums will be about $21-43.*
What Does Dental Insurance for Seniors Over 65 Cover?*
Dental plans that best meet seniors' needs cover a plethora of services. The level of coverage (100%, 80%, 60%, or 50%) will depend on the type of service provided and the benefit level you have chosen (basic or premium). Here are some examples of services that can be covered:
Type I Services
Prophylaxis
Oral evaluations
Bitewing X-rays
Vertical bitewings
Diagnostic casts
Type II Services
Intraoral films, extraoral films and panoramic film
Amalgam, primary or permanent and resin-based composite
Palliative (emergency) treatment of pain
Fixed partial denture sectioning
Local anesthesia
Inhalation of nitrous oxide
Occlusion and analysis and occlusion adjustment
Type III Services
Inlays and onlays
Crowns; cast posts and core buildups
Pin retention in addition to restoration
Sedative fillings
Endodontics

Pulp caps; therapeutic pulpotomy; pupal therapy
Root canal or endodontic therapy

Oral Surgery

Extraction of an erupted tooth; removal of impacted tooth
Tooth transplantation
Alveoloplasty
Removal of cyst/tumor 1.25cm and greater
Incision and drainage of abscess

Prosthodontics

Complete and partial dentures
Adjustment and repair of dentures

Periodontics

Gingivenctomy/gingivoplasty
Gingival flap procedure and osseous surgery
Soft tissue graft procedures
Periodontal scaling and root planning
Full-mouth debridement to enable evaluation and diagnosis
These are simply examples of services covered by dental insurance plans for seniors over 65. Be sure to check your dental policy to see what, and how much, is covered.
What About Dental Discount Plans?
Discount plans are also sold by private companies, but they are not insurance plans. There are no copays, coinsurance, or deductible amounts. That also means there are no pre-negotiated rates or free yearly checkups and cleanings. A participating dentist simply agrees to offer discounts (often a percentage off from the total price) for certain medical services. Then, seniors who choose discount plans will pay their dentist directly for the cost of services (after the discount).
Depending on the plan, discount plans can be a good alternative for senior dental insurance because:
They are inexpensive.
There are no deductibles.
There are no waiting periods.
There are no limits to how often you can visit or change your dentist.
These plans vary in coverage, but can include:
Cleanings
Checkups
X-rays
Fillings
Crowns
Dentures
Root Canals
Extractions
Discount plans can also include other things, such as vision and prescription coverage.
Shop HealthMarkets for Dental Insurance Plans for Seniors Over 65
Whether you're shopping for a Medicare Advantage plan with dental coverage or looking to get a stand-alone senior dental insurance plan, HealthMarkets can help. Answer a few short questions, and our FitScore® will match you with the dental insurance plans for seniors over 65 that best fit your needs. Then, HealthMarkets' FitScore Forever™ technology can continuously compare plans year after year and alert you if there's a better option available. We can even get you enrolled online in minutes! Get started today.