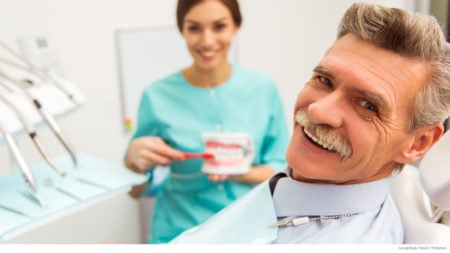 It's a wide spread assumption that we start losing our teeth due to age. But did you know that seniors are keeping their natural teeth stronger and for longer? How? It's simple: by visiting the dentist regularly and keeping their oral health in check. The same goes for seniors eyes'. Optometrists and ophthalmologists can spot and treat early signs of vision loss, as well as other health issues like diabetes! Visiting often may keep your eyes clear, even in your later years.
So, how can seniors keep their teeth tight and eyes bright? They can start by making sure they visit the doctor regularly, and affordably, with dental and vision plans for seniors.
Dental and Vision Plans for Medicare Recipients
Medicare Parts A and B, or Original Medicare, are only designed to cover specific medical services. Part A includes things like inpatient hospital insurance and skilled nursing facility coverage. Part B includes outpatient hospital insurance and doctor visits. So if you are using Medicare for your health insurance, you will have to look outside of Original Medicare for dental or vision benefits.
Can Medigap Plans Cover Dental or Vision?
Although Medigap plans are sold by private insurance companies, they will not cover dental and vision plans for individuals. Medigap plans are designed to cover the "gaps" in Original Medicare's coverage. For example, Medigap plans can cover things like:
Part A coinsurance
Part B coinsurance or copayments
Bloods Transfusions
Part A hospice care coinsurance or copayments
Skilled nursing facility care coinsurance
Part A deductibles
Part B deductibles
Part B excess charges
Foreign travel emergencies
So, having a Medigap plan can help you cover out-of-pocket medical costs. However, a Medigap plan alone will not include dental and vision plans for seniors. To get coverage, you will need to purchase stand-alone dental and vision plans.
Stand-alone Dental and Vision Insurance for Seniors
Did you know that there are stand-alone dental and vision plans designed specifically for seniors? These senior-specific plans are sold by private health insurance agencies, like HealthMarkets. A stand-alone plan may be the right fit for you if you are on Medicare. Let's examine the benefits often associated with dental and vision plans designed for seniors.
Benefits: Dental Plans for Seniors
Preventive (Ex: prophylaxis)
Diagnostic (Ex: oral evaluations, X-rays, casts, films)
Restorative (Ex: amalgam, inlays and onlays, crowns, pin retention in addition to restoration, sedative fillings)
Adjunctive (Ex: emergency pain treatment, fixed partial denture sectioning, local anesthesia, inhalation of nitrous oxide, occlusion and analysis and occlusion adjustment)
Endodontics (Ex: pulp caps, root canal)
Oral Surgery (Ex: extraction, tooth transplant, alveoloplasty, removal of cyst or tumor, incision and drainage of abscess)
Prosthodontics (Ex: complete and partial dentures, adjustment and repair of dentures)
Periodontics (Ex: gingivenctomy/gingivoplasty, gingival flap procedure and osseous surgery, soft tissue graft procedures, periodontal scaling and root planning, full-mouth debridement)
Benefits: Vision Plans For Seniors
Eye exam
Corrective Spectacle Lenses
Frames
Corrective Contact Lenses
Discounts on LASIK or PRK Vision Correction
The benefits and premiums of dental and vision plans for seniors may vary greatly depending on the insurance company you select, your location, and your choice of benefit level. To ensure you are getting the coverage you need at a price you can afford, talk to a licensed agent before purchasing a stand-alone dental or vision plan.
Can Medicare Advantage Cover Dental or Vision?
In short, yes. Many Medicare Advantage plans include dental and vision plans for seniors. These Medicare Advantage (or Medicare Part C) plans (which are sold by private health insurance companies) are sometimes referred to as "all-in-one" because they can also include benefits like:
Hearing coverage
Health and Wellness Programs
Prescription Drug coverage
If you are looking for "all-in-one" coverage, a Medicare Advantage plan may be right for you. Check your options with an agent first by calling (800) 429-5058.
Where Can You Purchase Dental and Vision Plans for Seniors?
The best place to get dental and vision plans for seniors, stand-alone or included in a Medicare Advantage plan, is with a licensed health insurance agent. An agent can show you all of the plans available in your area, compare benefits and costs, and even help you enroll in a plan. If that isn't enough, the service comes at no cost to you, so there is no disadvantage in contacting an agent. Call an agent today at (800) 429-5058, or find one near you here.