Did you know that you don't get prescription drug benefits automatically when you enroll in Original Medicare, which includes Part A hospital insurance and Part B medical insurance?
If you want to get coverage for your medications, you can enroll in a Medicare Part D drug plan during the annual Medicare Part D Open Enrollment. If you already get Part D benefits, the open enrollment period is also a time when you can explore other plan options. There are a variety of choices you can make concerning prescription drug coverage for Medicare Part D Open Enrollment 2019. Read on to learn about your options, other election periods for Medicare Part D, eligibility requirements, and how you can get help choosing the right Part D plan for you.
When Does Medicare Part D Open Enrollment Start?
Medicare Part D Open Enrollment 2019 started October 15. This date began the fall Open Enrollment for Medicare, also known as the Annual Election Period or Annual Enrollment Period (AEP). To access Part D benefits during this time, you can:
Join a Medicare Prescription Drug Plan (PDP) to add drug benefits to your Original Medicare coverage.
Switch from Original Medicare to a Medicare Advantage Prescription Drug Plan (MAPD).
Switch from a PDP to an MAPD and vice versa.
Switch from one PDP or MAPD to another.
When Does Medicare Part D Open Enrollment End?
The 2019 AEP for Medicare Part D ends December 7. From the AEP start date (October 15), this gives you about eight weeks to enroll in Medicare Part D coverage before the AEP deadline. The coverage you choose during the Medicare Part D Enrollment will be effective the first day of the following year. For example, if you enroll in a Part D drug plan in 2018, your coverage will start January 1, 2019.
Options for Ending Your Part D Benefits
The Medicare Part D Enrollment Period also allows you to opt out of Part D drug benefits. You can:
Drop your PDP or MAPD coverage completely.
Switch from a PDP or MAPD to a Medicare Advantage plan without drug coverage.
When Am I Eligible for Medicare Part D?
The first time you're eligible for Part D benefits is during your Medicare Part D Initial Enrollment Period (IEP). Your IEP for Part D is the same time as your IEP for Original Medicare and Medicare Part C, also called Medicare Advantage. Your IEP lasts for seven months and:
Begins three months before, and ends three months after, you turn 65, or
Begins three months before, and ends three months after, your 25th month of getting Social Security or Railroad Retirement Board (RRB) disability benefits.
If you didn't get Part D during your IEP, you get another chance to do so during the Medicare Part D Open Enrollment. However, you might pay the Part D late enrollment penalty (an extra amount added to your Part D premium) if:
You did not join a plan during your IEP, or
You went more than 63 days past your IEP without having other credible drug coverage.
If you receive assistance to pay your Part D drug costs through the Medicare Extra Help program, you don't pay the penalty.
Outside of these election periods for Medicare drug benefits, you can join, change, or drop Part D coverage if you're eligible for a Special Enrollment Period (SEP). There are various life events that can qualify you for an SEP, including moving to a location that has new plan options or losing coverage from Medicaid, an employer, or union.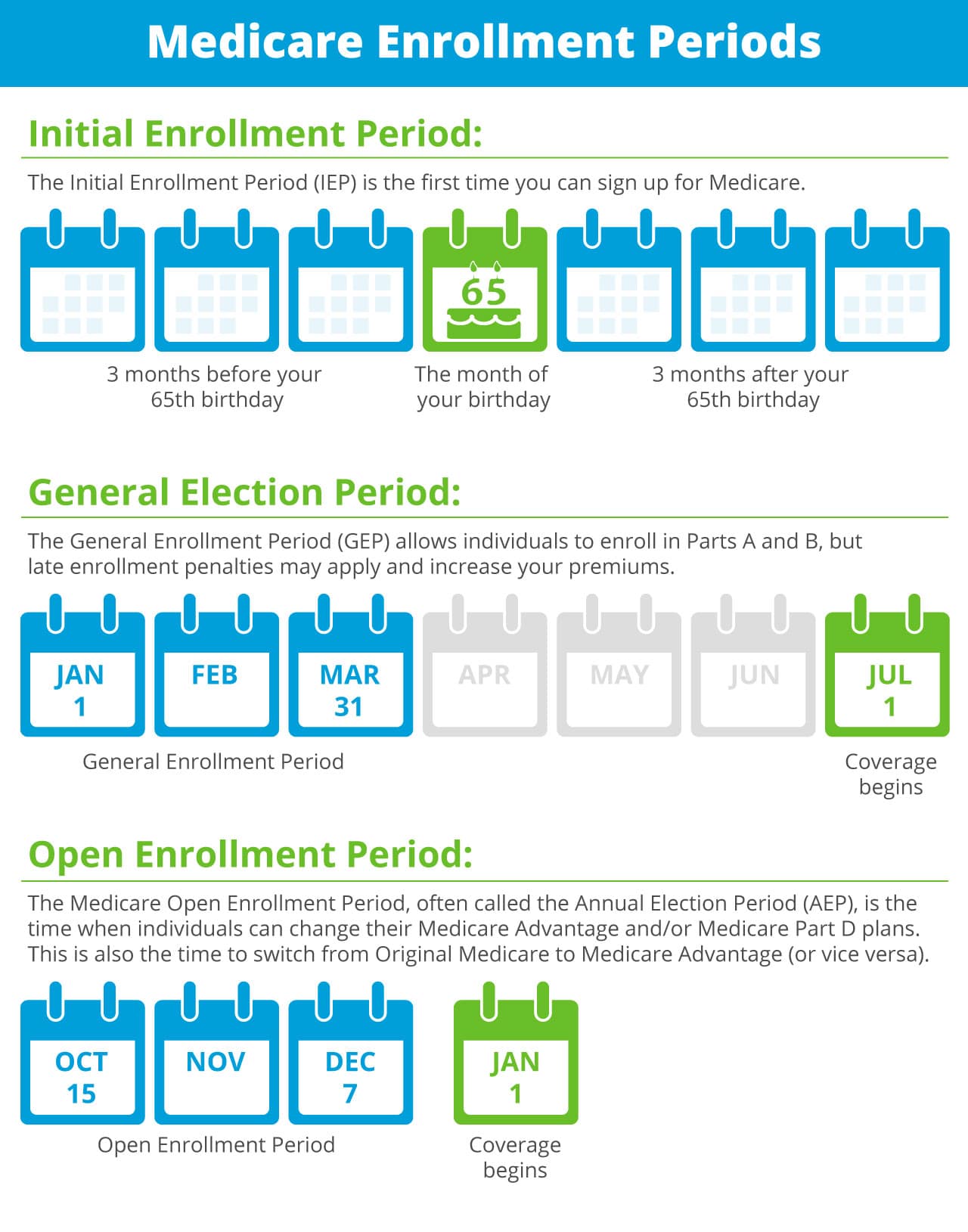 Requirements to Join a Medicare Part D Plan
To enroll in Part D during the fall Open Enrollment or other election period, you must live in a service area where plans are available. If you want to join a standalone Prescription Drug Plan (PDP), you must have Medicare Part A and/or Part B. But if you want to get drug benefits through a Medicare Advantage plan, you must have both Medicare Parts A and B.
Switching to a Medicare Advantage Prescription Drug Plan (MAPD)
Whether you're switching from Original Medicare or from a standalone drug plan to an MAPD, making the switch not only allows you to get drug benefits but access to other health benefits such as dental, vision, hearing, and wellness coverage. Plus, Medicare Advantage plans include Original Medicare Parts A and B, so you get to bundle your hospital, medical, prescription drug, and supplemental health coverage all into one plan.
Switching From an MAPD to a PDP
If you're currently enrolled in an MAPD and you switch to a standalone PDP during Medicare Part D Open Enrollment 2019, you will be disenrolled from your MAPD—which includes losing extra coverage such as vision and dental that came with the plan—and re-enrolled in Original Medicare.
Get Help Choosing a Medicare Part D Plan
Because Medicare Part D plans are only available through private insurance companies, the cost, pharmacy network, and drug formulary can vary from plan to plan and from year to year. That's why it's beneficial to review your Part D options annually. Our online FitScore™ or a HealthMarkets licensed insurance agent can compare your current medications among different standalone Part D plans and Medicare Advantage drug plans to find an affordable option that meets your needs—all at no cost to you and with no obligation to enroll.
Don't get confused by the Medicare Part D Open Enrollment. HealthMarkets makes reviewing and comparing plans easy. See if your current plan is still your best choice, or find a better plan with FitScore now.
Or, call us today at (800) 488-7621 to speak with one of our licensed health insurance agents.