Your search for affordable Health, Medicare and Life insurance starts here.
Don't Wait to Start Receiving Dental Insurance Benefits
Affordable dental insurance with no waiting period may seem like a lot to ask for. But with HealthMarkets, it isn't wishful thinking. With over 150 insurance companies nationwide to choose from, and over 3,000 licensed agents to help you with that decision, you can get the dental care you need when you need it.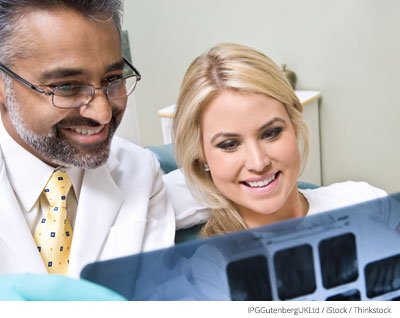 Many dental insurance companies impose waiting periods before benefits can begin. But there are still a few companies that do not require such waiting periods, and our agents can help you find a plan that fits your budget while also accommodating your immediate need for coverage. All you have to do is call us at (800) 360-1402 today.
What Is a Waiting Period?
Insurance companies will often place waiting periods on their policies to prevent people from waiting until they need a major procedure before buying an insurance plan. After the procedure, they could simply drop the plan and wait until another major service is needed before buying insurance again. And the cycle continues. 
How long do waiting periods last? Waiting periods typically last anywhere from 6 to 12 months, and the length of the waiting period is often dependent on the type of procedure at stake. Some plans might feature one flat waiting period before any benefits begin. Others might have no waiting period for basic care, a short waiting period for some services, and a longer waiting period for more advanced procedures. 
Other dental insurance plans might stagger their coverage levels. For instance, you might receive 70 percent coverage for a particular service during the first year, 80 percent during year two and 100 percent coverage for the same service beginning in the third year. This is a way to encourage prevention through regular visits.
Most dentist offices will still perform a given procedure during the waiting period; you'll just be responsible for 100 percent of the cost.
Categories of Procedures
Dental insurance providers often break down services into different categories. These categories not only affect cost and coverage rates, but they can also determine how long a waiting period may be. 
A typical classification system might look something like this:
Class I: Preventive care including routine cleanings every six months, fluoride treatments, and dental sealants. This class may also include diagnostic services like x-rays, space maintainers, and oral evaluations. 
Class II: Basic restorative care such as root canals and fillings. 
Class III: More advanced restorative procedures like crowns, bridges, and dentures.   
Most dental insurance policies operate under a "100-80-50" coverage model. This means that class I services are covered in full, class II are covered at 80 percent, and class III procedures are covered at a 50% rate. 
Class I services may not require a waiting period, while class II could come with a six-month waiting period, and you may have to wait a full year before receiving coverage for anything in class III. A HealthMarkets agent can help you fully understand your dental insurance options.
Advantages of No Waiting Periods
There are two distinct advantages to having a dental insurance plan with no waiting period, particularly if an immediate procedure is needed. 
You can get the care you need now.
The timing of treatment can mean the difference between a restored, healthy smile and a string of painful (and even more expensive) problems down the road. 
You'll save money.
Even with insurance, if you needed a root canal, for instance, it would most likely cost a lot more than a covered filling. Dental problems can occur for many reasons, and they tend to get worse over time. So the sooner you can get treated, the more you'll save in future expenses. 
Also, if you have no waiting period, any treatment you receive right away is insured. If you have a waiting period but choose to have the procedure done anyway, you'll pay considerably more for the same service.
Consider the average cost of some common dental procedures both with and without insurance coverage, using a standard "100-80-50" coverage model:


| | | | |
| --- | --- | --- | --- |
| Procedure | Cost with no insurance | Cost with insurance | Savings |
| Filling | $100 - $300 | $20 - $60 | $80 - $240 |
| Crowns | $700 - $1,200 | $350 - $600 | $350 - $600 |
| Bridges | $2,000 - $3,000 | $1,000 - $1,500 | $1,000 - $1,500 |
| Non-surgical tooth extraction | $100 - $200 | $20 - $40 | $80 - $160 |
| Surgical tooth extraction  | $200 - $400 | $100 - $200 | $100 - $200  |
Can You Get Dental Insurance With Pre-existing Conditions? 
Another thing that can affect your benefits from the get-go is a plan's policy on pre-existing conditions. 
A pre-existing condition is an oral health problem that is already present at the time you sign up for insurance. Most plans will cover minor pre-existing conditions, such as cavities, right away. But some plans will not provide coverage for more serious pre-existing conditions. They may impose a waiting period for these pre-existing conditions or perhaps not cover them at all at any time.
Clauses for pre-existing conditions are similar in purpose to those of waiting periods: to deter people from buying insurance only when they have a serious (and expensive) problem.
Types of Insurance with No Waiting Period
As it is with plans that do impose waiting periods, there are generally two different types of dental insurance plans that you can obtain without the need for a waiting period:
DMHO (Dental Health Maintenance Organization)
A DMHO provides a network of dentists and dental offices for you to choose from. You'll select a primary dentist for all your basic care, and if a specialist is needed for any major procedures, your primary dentist will refer you to a specialist within the network.
As long as you stay within the plan's network, most of your costs will be covered by your provider. Should you step out of the network, you'll typically take on the full cost of service.
Most DMHOs have no annual maximums, which is the most that a plan will pay toward the cost of your care in a given year, and many don't have an annual deductible either. 
Out-of-pocket expenses include copayments for certain procedures.  
DPPO (Dental Preferred Provider Organization)
A DPPO plan provides a little more flexibility in that you can roam outside the provider's network and still receive some coverage for services. You will not need a primary dentist or referrals for services. 
The tradeoff for greater freedom is that a DPPO generally garners higher monthly costs in premiums and can come with annual limits.  
Dental Discount Plans: Another Option 
Traditional dental insurance isn't the only option for receiving affordable care with no waiting period. 
Dental discount plans are a slight deviation in form and function, and there are plenty of discount plans that come free of waiting periods. 
A discount plan requires a monthly fee, just like a premium. This fee grants you access to a collection of discounted offers put forth by various dentist offices in your area. If you find a dental discount plan with no waiting period, you'll have immediate access to an array of services at reduced prices. 
Importance of Dental Insurance
Waiting period or not, dental insurance should not be taken for granted. By simply seeing a dentist twice a year for a routine examination and cleaning, you can protect yourself from serious problems down the road.
And those problems aren't limited to just your oral health. Your mouth serves as a gateway to your body and links have been found between gum disease and diabetes, heart disease, pregnancy complications, osteoporosis, dementia, obesity, and more.
Why HealthMarkets?
When left to purchase dental insurance on your own, it is up to you to navigate the fine print concerning waiting periods, pre-existing conditions, and so forth. But by contacting HealthMarkets, you can utilize one of our experienced agents to help you find an affordable dental insurance plan with no waiting period. 
You don't want to wait for dental treatment. Contact us today.
---
HMIA002273
References:
"Individual CIGNA Dental Preferred Provider Insurance." 2011.
"Average Cost for Dental Procedures | Enlighten Me." 2014.
"Dental Insurance and Preexisting Conditions - Livestrong.com." 2010.
"The Link Between Oral Health and Medical Illness - Dental ..." 2007.