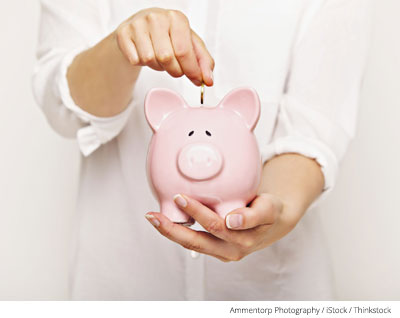 We all know dental bills can wreck even the most well-planned budget. But delaying dental care to save money can result in larger bills later on if problems are left untreated. Purchasing affordable dental insurance with no waiting period1 can protect both your budget and your teeth.
Cost of Dental Care With and Without Dental Insurance
Investing money in regular dental check-ups and cleanings can save you money in the long run. At each check up and cleaning, your dentist can catch problems early before they progress into serious issues such as gum disease or tooth decay. And don't wait too long! If untreated, gum disease and advanced tooth decay can lead to tooth loss. Services treating issues such as gum disease, tooth decay, and tooth loss turn out to be far more expensive than routine check-ups and cleanings. Here are the costs if you paid cash:
Routine exam with dental cleaning: $50-$135
Filling: $100-200
Root Canal: $500-$1,000
Dental Crowns: $760-$1450, depending on the materials used in the crown
Affordable dental insurance can save you hundreds of dollars on the above dental treatments:
Routine exam with dental cleaning: Typically covered at 100%2
Fillings: Typically covered at 50% to 80%2
Root Canals: Typically covered at 60%2
Dental Crowns: Typically covered at 60%2
Keeping an Eye on Waiting Periods
Benefits of Affordable Dental Insurance With No Waiting Period:
Enrolling in dental insurance can save you hundreds on various dental services
Dental insurance makes it easier for individuals to maintain regular checkups where dentists can catch problems early
Treating dental issues early on is less expensive than treating them after they have worsened and require major dental work
When you are shopping for an affordable dental insurance plan, it is vital to look beyond just the price of the plan and check for limitations. Many insurance plans will not offer any benefits for more advanced procedures until a waiting period has passed. Preventive care (cleanings and oral exams) are frequently covered right away, but procedures (space maintainers, fillings, and panoramic films) may only be covered after six months.2 More advanced services (root canals, crowns, and dentures) are often covered after a period of 12 months. However, it is possible to find affordable dental insurance with no waiting period for all types of dental services. In order to save money, consider which dental services you may need in the future. That way, you can purchase a plan that covers all the treatments you might need. Affordable dental insurance with no waiting period can be an effective tool for reducing your out-of-pocket expenses.
Find Affordable Dental Insurance Now
Making sense out of the many details of the various insurance plans available may seem daunting. Our HealthMarkets insurance agents are here to help. They can assist you in identifying an affordable dental insurance policy with no waiting period to meet your needs and help guard you from excessive dental bills. Find a local agent, or call (800) 642-0607 for personalized assistance 24/7.