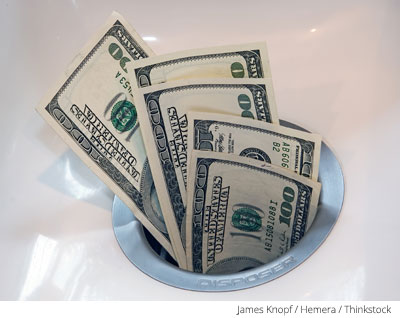 The first myth about supplemental health insurance focuses on the cost. You may think that, like traditional health insurance, it's too expensive. But can something around $7 per month be too expensive?
The answer? No! Especially when you find out that the average cost of a hospital stay in 2010 was nearly $10,000.1 Instead of worrying about that huge bill, imagine saving your money with a supplemental plan, which can be as low as $6.30 per month!2
How It Works
We all hope for health and wealth, and it's true that one can affect the other.  In fact, it may surprise you to know that medical expenses contributed to 62% of bankruptcy cases in 2007. Not only that, over 75% of those filers had health insurance!3
With the passage of healthcare reforms, health insurance must cover 10 essential services. So, when you need it, your policy allows you to have proper medical care. Unfortunately, every expense may not be covered by your insurance policy. But don't fret! Supplemental health insurance can fill the gaps in your coverage.
How can supplemental policies help? Well, supplemental health insurance differs from traditional insurance. It is designed to pay you directly rather than doctors and hospitals. So, many payout options—the benefits you receive from your policy coverage—can be used like cash. This means that the benefits can help pay for services and out-of-pocket expenses (e.g. deductibles, copayments, and coinsurance). On top of that, it can also cover regular living expenses.
Don't Get Fooled by Premiums
In order to save on monthly expenses, many employees and individuals are opting for lower monthly premiums. However, these low premiums can come with high deductibles and surprising out-of-pocket expenses.  So, how can you avoid getting trapped by out-of pocket costs, even with a low-premium high-deductible plan? With an inexpensive supplemental policy!
For example, Pam and Gloria experience a biking accident. Pam and Gloria both purchased a major medical plan with a high deductible of $2,000; however, Gloria wanted to mitigate the high deductible and coinsurance expenses, just in case. So, she decided to buy a supplemental health insurance plan. With a supplemental accident policy, Gloria was able to choose a policy with a max $25,000 benefit level, which only cost her $4.80 per month.2
Four months after purchasing their insurance plans, the ladies went biking together and took a tumble. Both women broke a forearm and required an emergency room visit, surgery to reset the bones, and three days in the hospital. If the total amount of their medical fees came to $10,136, take a look at our nifty infographic to discover what both ladies pay out-of pocket.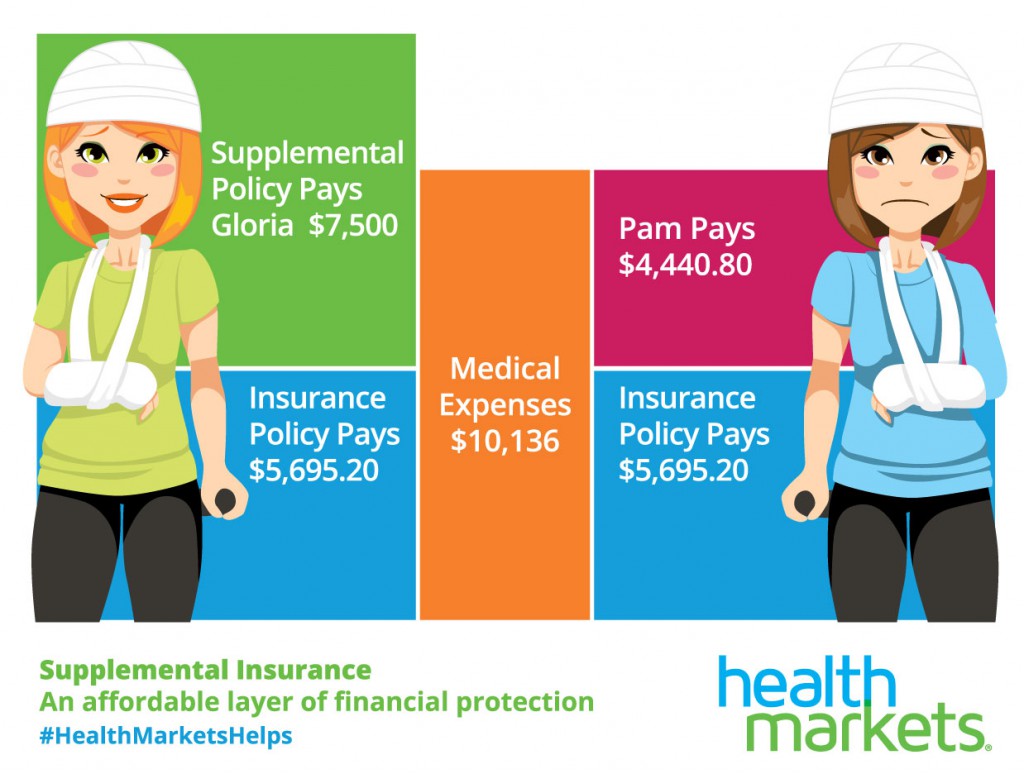 * The health insurance policy benefits referenced is taken from the 2015 Silver Compass Balanced 2000, a Texas only plan through All Savers, a United Health Insurance Company. For a summary of benefits and coverage, please visit www.uhc.com/xtx. The medical fees and costs used were taken from www.healthcarebluebook.com. Healthcare Blue Book provides estimates on health care services and the above shown costs are examples only. Actual costs will vary.
Even with insurance, Pam would still be responsible for $4,440.80 in out-of-pocket medical expenses. On the other hand, thanks to her supplemental insurance payout, Gloria would cover the $4,440.80 out-of-pocket expenses and have $3,059.20 left over to cover her bike repairs!
Finding the Right Policy
What kinds of supplemental coverage you choose will determine your cost. Fortunately, many supplemental plans come with a low price tag. Now, what policy is right for you, and where can you get it? Right here! Discuss your options with a licensed agent at HealthMarkets Insurance Agency. Call us 24/7 at (800) 642-0607 or meet with one of our 3,000 local, licensed health insurance agents.
Want a little more information about supplemental health insurance before contacting an agent? Visit our supplemental insurance introduction and supplemental FAQ pages.